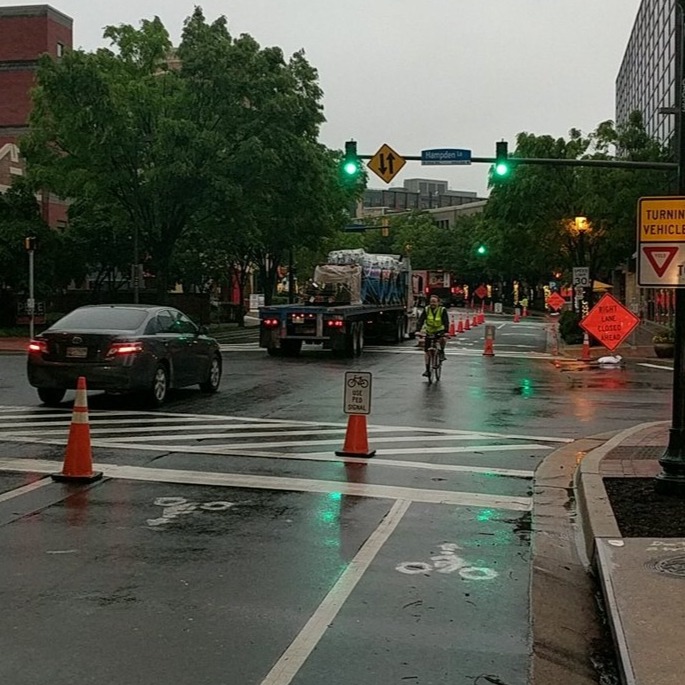 Cyclists Undeterred by Bike to Work Day Rain
Thousands of commuters ignored the rain and rode their bicycles to work Friday morning for Bike to Work Day, the Metropolitan Washington Council of Governments said.
By its tally, more than 17,000 Washington-area commuters left their cars at home and pedaled to work. Nearly 100 pit stops in Maryland, Virginia and the District of Columbia hosted celebrations and provided bicyclists with free T-shirts and other prizes, as well as food and beverages.
In 2016, the Bike to Work Day survey found that 14 percent of participants took part in the event as first-time cyclists, and 28 percent of regular cyclists increased their bicycling to approximately three days per week after the annual event.
Bike to Work Day, co-sponsored by Commuter Connections and the Washington Area Bicyclist Association (WABA), promotes bicycling as an alternate healthy commuting option that results in reduced commuting costs, less traffic congestion, healthier lifestyles and improved air quality.
Although Bike to Work Day is an annual event, there are a range of services and resources available year-round for those who would like to bicycle to work. Visit www.commuterconnections.org/commuters/bicycling/ for information on rules of the road, outfitting yourself and your bicycle, bike sharing, and more.
Our #BTWD pop-up cycle track is open! Come ride it on Woodmont Ave. pic.twitter.com/IfFOCje4cE

— MC_DTE (@MoCo_DTE) May 18, 2018