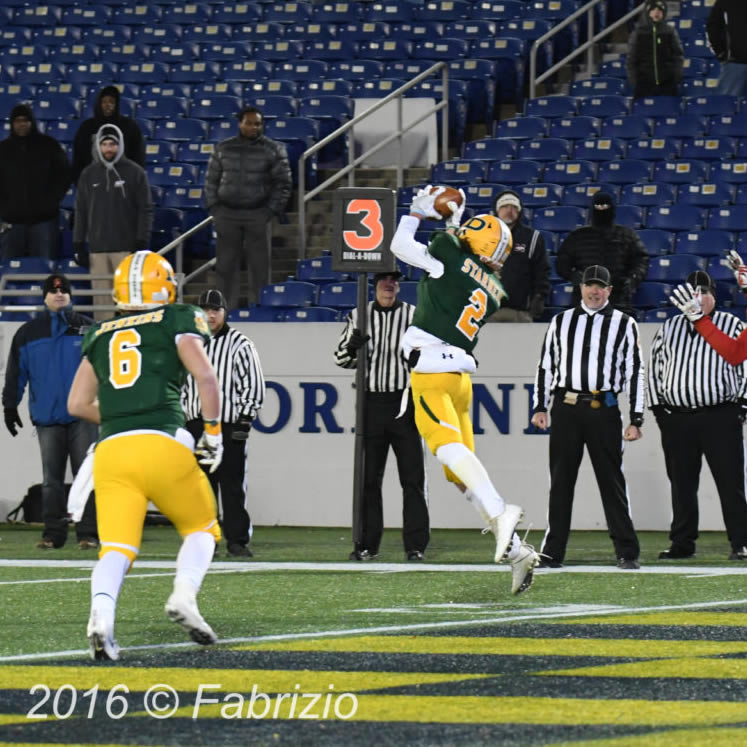 Damascus Crowned 3A Football Champs (PHOTOS)
By most accounts along the sidelines last evening Franklin High School out played Damascus and was positioned to win.  Luck in both forms bad and good had followed Damascus all evening.  Fourth quarter time was running out for the Hornets and the Indians were on the 5-yard line in position to score to claim the lead in this 14-12 game.  Luck came calling once more in the Damascus green and yellow uniform with the #2 on it.  Paybacks can be cruel.
How did we get here to this point in the game?  Luck and skill.
The championship game breaks down simply to this.  Damascus scores twice. Once in the first period with 6:23 on the clock and then strikes quickly in the second with 11:35 on the clock to go up 14-0 over Franklin.
Franklin scores twice.  Once in the second period and again in the third period with 8:26 on the clock.  However, good luck for Damascus pushed wide left the first extra point attempt by Franklin forcing the Indians to go on the 2nd score for a two-point conversion to tie – which was snuffed out in the backfield by Damascus defensive pursuit resulting in a score of 14-12 in the 3rd.
On the ensuing kickoff Franklin recovers a fumble after a 21 yard squib kick at the Damascus 39 and the BIG MO luck found the Indians. For the next two series both teams exchange punts and field position favors Franklin as they take over at the Damascus 43.  Eight plays later Luck returns to the Damascus side as Colby Starheim (#2 in the Green/Yellow) reaches for a 21 yard tipped pass in the end zone and holds on for his second interception.  It perhaps is the best athletic combination pass & catch of the night between Franklin's quarterback Larry Smith (#10) and Damascus's Starheim.  Franklin's scoring threat ends until the fourth quarter.
Damascus was playing in the championship with John Allen Furgeson, his first start, after Wade Rippeon injures (bad luck) his ankle in pregame warm ups.  Franklin for their part keys on Marcus Vinson and Eli Atkins all evening – stopping their run game.  In the first half Damascus was held to minus 6 yards on 21 carries due to sacks and fumbles and great Indian defense. Not good for Damascus.
What will be remembered most will be Franklin's final series of plays. Franklin gets the ball with 10:57 in the 4th quarter and holds on for 13 plays.  Franklin is now at the Damascus 19 in position for a 36-yard field goal attempt to take the lead.  Franklin's kicker #99 Gerson Soriano sets and kicks it wide but meanwhile is roughed up by Damascus who is penalized.  It's first and goal at the 10.  Damascus defense rises to hold Franklin to a third and five at the 5.  Franklin's Joshua Turner (#2) drops back to pass left looking for Aaron Webb (#9) but Luck intervenes once again this time at the goal line in the form of #2 in Green/Yellow, Colby Starheim.  Starheim grabs and takes his 3rd interception 24 yards in the opposite direction ending Franklin's final threat.
Franklin gets one more chance after Damascus fails to convert a first down but the Indians go 4 and out handing the ball back to the Hornets at their 43 with 1:59 left on the clock.  Vinson five plays later goes 7 yards for a first down and Damascus's second consecutive 3A championship.
They avenged their 35-21 loss of two years earlier to Franklin in this same playoff game.  It's payback.
In high school sports, there is never a MVP.  However, there are players that make a difference because of their skills.  Senior cornerback #2 Colby Starheim made the difference this evening in a game that he and the Damascus faithful may take a generation to fully comprehend. It's the curse of those glory days.
Damascus played defense on an evening when bad and good luck surrounded them.  They made tackles in the back field, blocked extra points, a sack, gang tackling and four interceptions.  But then there is Starheim who was leading and favored receiver for the Franklin Indians – with 80 all-purpose yards on 3 receptions (interceptions) on an evening when Damascus held the Indians to a total of 88 yards in the air and 185 on the ground.
Congratulations to Damascus and welcome to the MPSSAA 2A Division – where new opportunities exist to add to your nine football championships trophy case.
Photos | 2016 © Fabrizio for MCM