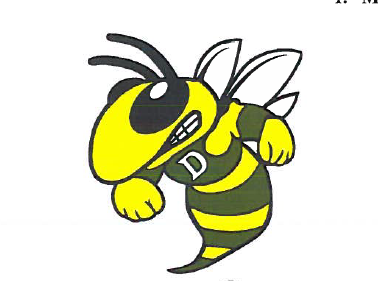 Damascus High Presses Fight for Hornet Logo on Water Tower
Damascus High School isn't giving up on its plan to paint its mascot on a town water tower, though it's facing opposition from Georgia Institute of Technology.
Because the Damascus High Swarmin' Hornet have some similarities to the Georgia Tech Yellow Jacket, Montgomery County Public Schools and the Atlanta college inked an agreement in 2016 limiting how the hornet logo can be used.
T-shirts? OK. Souvenirs? Just fine, y'all.
But a logo painted on a water tower wasn't contemplated in the contract, and without Tech's approval, the project has hit a roadblock.
"I'm questioning the validity of their agreement that we're not allowed to use our own logo," said Victor Furnells, a Damascus High parent who is one of the architects of the water tower plan. "What it all boils down to is, it's just town pride. That's all we want."
The college appears to be sympathetic to the school's desires, but it still wants to protect its trademark.
"We certainly understand the community's school spirit in wanting to include the Damascus Hornet on the water tower, and hope that expression of school and community pride can be demonstrated at this time in other ways that do not include the use of the licensed trademark," wrote Patrick J. McKenna, Georgia Tech vice president, in a Monday letter to Joshua Civin, MCPS general counsel.
A GoFundMe drive, started by Furnells on May 8, needed only a month to reach its goal of $15,000, the cost of the paint job, according to the Washington Suburban Sanitary Commission, which owns the water tower.
An update to the drive includes Furnells' suggestion to contact McKenna with "a respectful plea" to allow the hornet on the tower.
The WSSC, by the way, says it needs to know soon whether to go ahead with the paint job. Crews are finishing up painting the tower. Furnells said the agency told him that it would cost too much for the workers to leave and return to paint the tower.
The McKenna letter says Damascus High School can make its case before the college's Licensing and Trademark Committee, scheduled to meet in August. McKenna says the changes contemplated by painting the water tower could affect its agreements with about 380 other schools that have signed agreements with the college because they have similar logos.
Civin said Wednesday there had been no new developments.
"We're really trying to support our school and school community. We've devoted a lot of time and effort so that the school has its chosen logo," Civin said.
Here is McKenna's Monday letter:
And here is the agreement between Georgia Tech and MCPS: