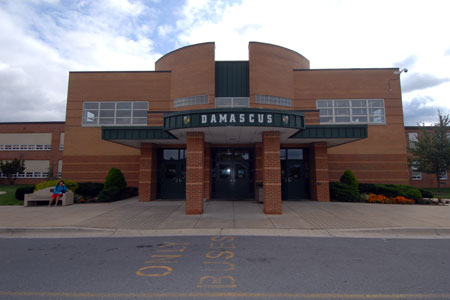 Damascus High School Principal Pens Open Letter About National Anthem Protest
The principal of Damascus High School penned an open letter to the community about the recent national anthem protests ahead of Friday's football game against Watkins Mill High School.
Last Friday, Watkins Mill High School football players knelt in protest during the national anthem and are expected to do so again at tomorrow's game.
"Recently, a conversation has emerged about what the National Anthem means to different people and communities in the context of race relations in America. Some, including student athletes in Montgomery County schools, are participating in this conversation by kneeling or engaging in other silent protests during the performance of the National Anthem. While not an easy conversation, this can be a great opportunity to learn from one another. If we listen to each other on this issue, we will grow in our ability to respect and understand diverse perspectives within our community," Damascus High School Principal Jennifer Webster wrote.
Carol Goddard, principal of Watkins Mill High School told MyMCMedia that she has been in contact with Webster ahead of the game. Goddard said that students are not just copying Colin Kaepernick, the NFL quarterback who is credited for starting the protest. "It's about [a] social movement and injustice," Goddard said. "[The students] are just extending their constitutional right," she said.
Watkins Mill High School hosted a town hall today to discuss protesting the national anthem and its bigger impact. A second town hall is scheduled to take place during lunch tomorrow.
According to Montgomery County Public Schools (MCPS) Students Guide to Rights and Responsibilities, "Students will have the opportunity to participate in and/or watch patriotic exercises in school. Students have a right to not be compelled to participate in patriotic exercises, or be penalized or embarrassed for failure to participate. A student may not interrupt others who are participating in patriotic exercises."
The Wolverines are scheduled to take on the Hornets at Damascus on Friday at 6:30 p.m.
You can view Webster's open letter to the Damascus community in its entirety, below.

Great meeting today Wolverines! Please come tomorrow with ideas during STEP. #TownHall meeting pic.twitter.com/YnIwpTbEnN

— WatkinsMillAthletics (@TheMillSports) September 15, 2016
There will be meeting tomorrow in the Auditorium during STEP discussing the recent National Anthem protests. All students/staff welcome.

— WatkinsMillAthletics (@TheMillSports) September 14, 2016