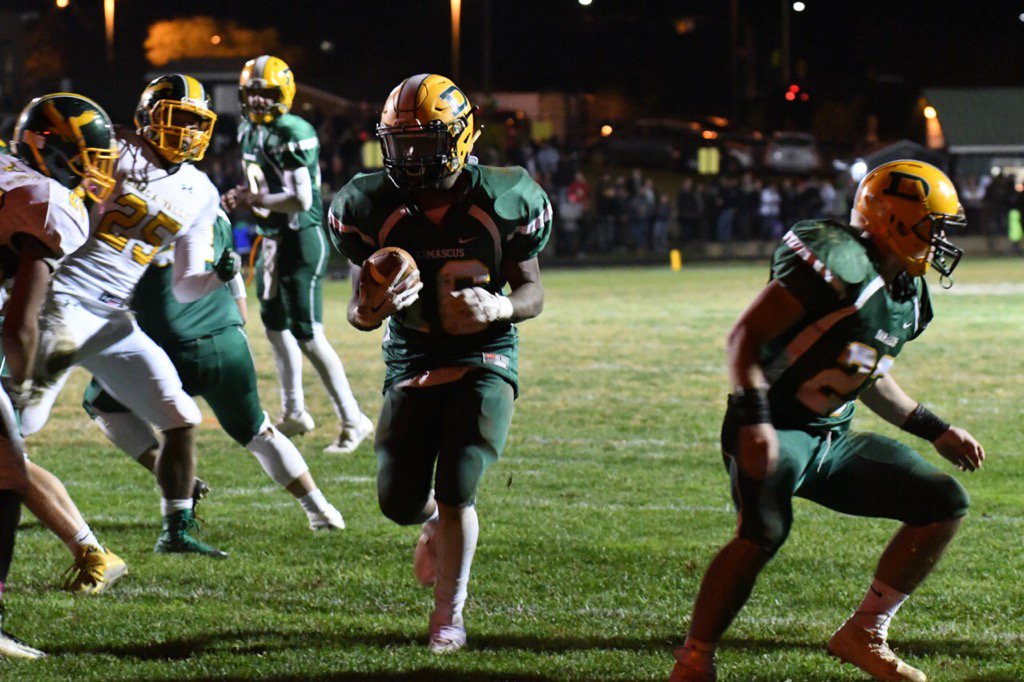 Damascus Over Seneca Valley, 59-21 (PHOTOS)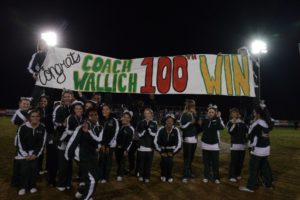 UPDATED It was the Hornets over the Screamin' Eagles, 59-21, on Friday night in Maryland 3A high school football action in Damascus.
There was a lot of offense to cheer for in the first half of the game.
As the players entered the locker rooms at halftime, Damascus led Seneca Valley, 56-21.
A field goal in the second half put Damascus up, 59-21, when time expired. The Hornets remain undefeated.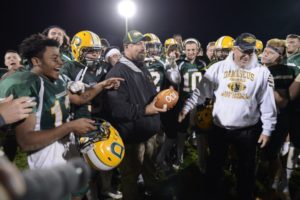 It was the 100th win for Damascus football coach Eric Wallich, who was presented with the game ball.
Photographer Phil Fabrizio captured these highlights of the game action, below:
Coach Eric Wallich is given the game ball by Damascus AD Joe Doody for his 100th win. 59-21 over SV. @mymcmedia pic.twitter.com/5Kui3ZI6PX

— Phil Fabrizio (@Photoloaf) October 29, 2016
Congratulations Coach. @mymcmedia pic.twitter.com/9rh5I6IX3P

— Phil Fabrizio (@Photoloaf) October 29, 2016
That's all from Damascus 59-21 over Seneca Valley @mymcmedia pic.twitter.com/kFuuuCY68g

— Phil Fabrizio (@Photoloaf) October 29, 2016
You got to love the way Platt runs for Seneca @mymcmedia pic.twitter.com/EdZYVkYX9y

— Phil Fabrizio (@Photoloaf) October 29, 2016
Junior Baires 27 yd FG makes it 59-21 for Damascus and on the ensuing KO they recover a FUMBLE. @mymcmedia

— Phil Fabrizio (@Photoloaf) October 29, 2016
Junior Baires 27 yd FG makes it 59-21 for Damascus and on the ensuing KO they recover a FUMBLE. @mymcmedia

— Phil Fabrizio (@Photoloaf) October 29, 2016
3 TDs and 208 yards in the first half. Vinson may need a rest in the 2nd half 56-21 Damascus @mymcmedia @gdpoze pic.twitter.com/hr4KjNSUgL

— Phil Fabrizio (@Photoloaf) October 29, 2016
Poms. Damascus knows how to put a routine together. @mymcmedia @DHS_Hornets @damascuspoms pic.twitter.com/Fibx85eZkX

— Phil Fabrizio (@Photoloaf) October 29, 2016
Scoreboard says it all after 1 half of play as the Hornets head comfortably to the locker room. @mymcmedia @gdpoze pic.twitter.com/GHPcDAzGDu

— Phil Fabrizio (@Photoloaf) October 28, 2016
#5 Atkins as seen from opposite end zone crosses the goal line for Damascus making it 56-21 @mymcmedia @DHS_Hornets pic.twitter.com/o3SMxoYZSt

— Phil Fabrizio (@Photoloaf) October 28, 2016
SV's Platt fakes and jukes for a 35 yd TD making it Seneca 21 and Damascus 49 @mymcmedia pic.twitter.com/vKPsMABQEW

— Phil Fabrizio (@Photoloaf) October 28, 2016
29 Yd TD by Vinson makes it Damascus 49 Seneca Valley 14 @mymcmedia @DHS_Hornets pic.twitter.com/vTE32LgNx9

— Phil Fabrizio (@Photoloaf) October 28, 2016
Vinson on a 1 yd TD run. Damascus 42 SV 14 @mymcmedia pic.twitter.com/QvC1QrRJpv

— Phil Fabrizio (@Photoloaf) October 28, 2016
SV scores on a 40 plus yd TD pass. Making it 35 – 14 Damascus @mymcmedia

— Phil Fabrizio (@Photoloaf) October 28, 2016
Vinson on a 35 yd scamper makes it Damascus 35 SV 7 @mymcmedia pic.twitter.com/Uj0qK2rr8V

— Phil Fabrizio (@Photoloaf) October 28, 2016
Atkins for Damascus makes it 28-7 as 1st QTR ends. pic.twitter.com/z6f6LcNwck

— Phil Fabrizio (@Photoloaf) October 28, 2016
A pic 6 for Cole to go with his fumble return @mymcmedia Damascus 21 SV 7 pic.twitter.com/aNjJI00Ep3

— Phil Fabrizio (@Photoloaf) October 28, 2016
Rippeon scores for Damascus in a wild 4 minutes of the first 14-7 Damascus @mymcmedia pic.twitter.com/LY2dIILMtJ

— Phil Fabrizio (@Photoloaf) October 28, 2016
Dodson for SV as they storm right back 7-7. @mymcmedia pic.twitter.com/RcilPksC6h

— Phil Fabrizio (@Photoloaf) October 28, 2016
Seneca's Platt fumbles and it's 45yards by Simpson. Damascus 7-0 @mymcmedia pic.twitter.com/GHRaTkOXB6

— Phil Fabrizio (@Photoloaf) October 28, 2016
Game on. @mymcmedia in Damascus taking on visiting Seneca Valley pic.twitter.com/k99aMqFQ3i

— Phil Fabrizio (@Photoloaf) October 28, 2016