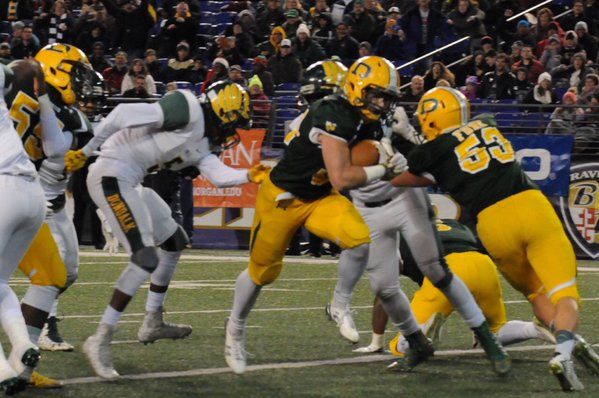 UPDATED: Damascus Swarmin' Hornets Win 3A State Championship, 55-14, Over Dundalk (PHOTOS & VIDEO)
UPDATED Damascus star running back Jake Funk scored a record seven times in the Maryland 3A state championship game, which was played at M & T Bank Stadium in Baltimore on Dec. 3rd.
The Damascus Swarmin' Hornets won the game, 55-14, over the Dundalk Owls to finish the season undefeated.
In this first quarter, Funk scored twice.
Dundalk responded with a touchdown and two point conversion. But it was Funk again with a score. The Hornets two-point conversion failed.
Before halftime, Funk has six touchdowns bringing his total this season to 56 and football fans there was still a second half to play.
Funk scored again right after the half to bring his total to seven touchdowns in the Maryland championship game.
The win is redemption for Damascus who lost the state championship game last year.
In an interview earlier this week, Damascus Coach Eric Wallich said if the Swarmin' Hornets won the game it would be bittersweet because it is Funk's last game for his high school team. Wallich credited Funk's work ethic for his success and he said he loved his star player like a son. He hoped Funk would go out in a "blaze of glory" and that he did!
Trophy held high. @mymcmedia @allmetsports @MCPSAthletics @DHS_Hornets @cszscores pic.twitter.com/ycaAxoLEJu

— Phil Fabrizio (@Photoloaf) December 4, 2015
Champs. @MCC_PTA @mymcmedia @gdpoze @DHS_Hornets @DHS_Swarm @DHS_Principal pic.twitter.com/e1Pj2llLb6

— Phil Fabrizio (@Photoloaf) December 4, 2015
Congratulations to @DHS_Hornets ? for bringing home the 3A @MPSSAA_Org state championship! ? Damascus finishes 14-0 after 55-14 victory!

— Jeff Sullivan (@MCPSAthletics) December 4, 2015
His work is done. @mymcmedia @gdpoze @DHS_Swarm @DHS_Hornets @MCPSAthletics @WUSA9HSS @allmetsports @USATODAYhss pic.twitter.com/mFgmgTtUOh

— Phil Fabrizio (@Photoloaf) December 4, 2015
Jake Funk has 265 Net Yds after 3 quarters. He has a State Finals rec 7 TDs. Damascus' 55 pts is most by a 3A team in title game. #DAMvsDUN

— Michael Cornejo (@MikeCornejo) December 4, 2015
Armstrong for the score. 55-8 Damascus. @mymcmedia @gdpoze @DHS_Hornets @DHS_Swarm @MCPSAthletics @DHS_Principal pic.twitter.com/vHlmxFlAz8

— Phil Fabrizio (@Photoloaf) December 4, 2015
48-8 All Jake Funk scores. @mymcmedia @allmetsports @DHS_Hornets @CoachDurkin @DHS_Swarm @cszscores @gdpoze pic.twitter.com/DuA68Rza75

— Phil Fabrizio (@Photoloaf) December 4, 2015
At the Half its Damascus 41 Dundalk 8. @mymcmedia @allmetsports @umterps @cszscores @DHS_Hornets @MCPSAthletics pic.twitter.com/k2cHYgpbcn

— Phil Fabrizio (@Photoloaf) December 4, 2015
Funks 5th Damascus up 34-8 with 4:05 left in the half. @mymcmedia @allmetsports @gdpoze @WUSA9HSS @DHS_Principal pic.twitter.com/u3ZZCfsX0d

— Phil Fabrizio (@Photoloaf) December 4, 2015
Score now 27-8 Damascus with 4:21 left in the 2nd quarter. @mymcmedia pic.twitter.com/fQK2C6RLjR — Maureen Chowdhury (@MediaMaureen) December 4, 2015
Another touchdown for the Hornets! They lead the Owls 20-8 so far in 2nd quarter. @mymcmedia pic.twitter.com/ZmPg9AWa0w

— Maureen Chowdhury (@MediaMaureen) December 4, 2015
Funk in a 31 yd carry. Score 20-8 after failed conversion @mymcmedia @cszscores @DHS_Hornets @USATODAYhss pic.twitter.com/8KG05iDA4A — Phil Fabrizio (@Photoloaf) December 4, 2015
TD Dundalk. They convert for 2. Is 14-8 with 9 left in the 2nd @mymcmedia @gdpoze @BCPSSportsScene pic.twitter.com/otJVi3E4Zl

— Phil Fabrizio (@Photoloaf) December 4, 2015
Dundalks fumble resulted in a Funk Score making it 14-0 Dmass @mymcmedia @allmetsports @DHS_Hornets @cszscores pic.twitter.com/mXz3ZItE4n — Phil Fabrizio (@Photoloaf) December 4, 2015
Funk #51. Damascus 7-0. @mymcmedia @gdpoze @allmetsports @DHS_Hornets @MCPSAthletics @DHS_Principal pic.twitter.com/YWkihuHZDk

— Phil Fabrizio (@Photoloaf) December 4, 2015
Damascus crowd cheering on the swarmin' hornets. @mymcmedia pic.twitter.com/Og8B4bYwGm — Maureen Chowdhury (@MediaMaureen) December 4, 2015
PHOTOS | Phil Fabrizio