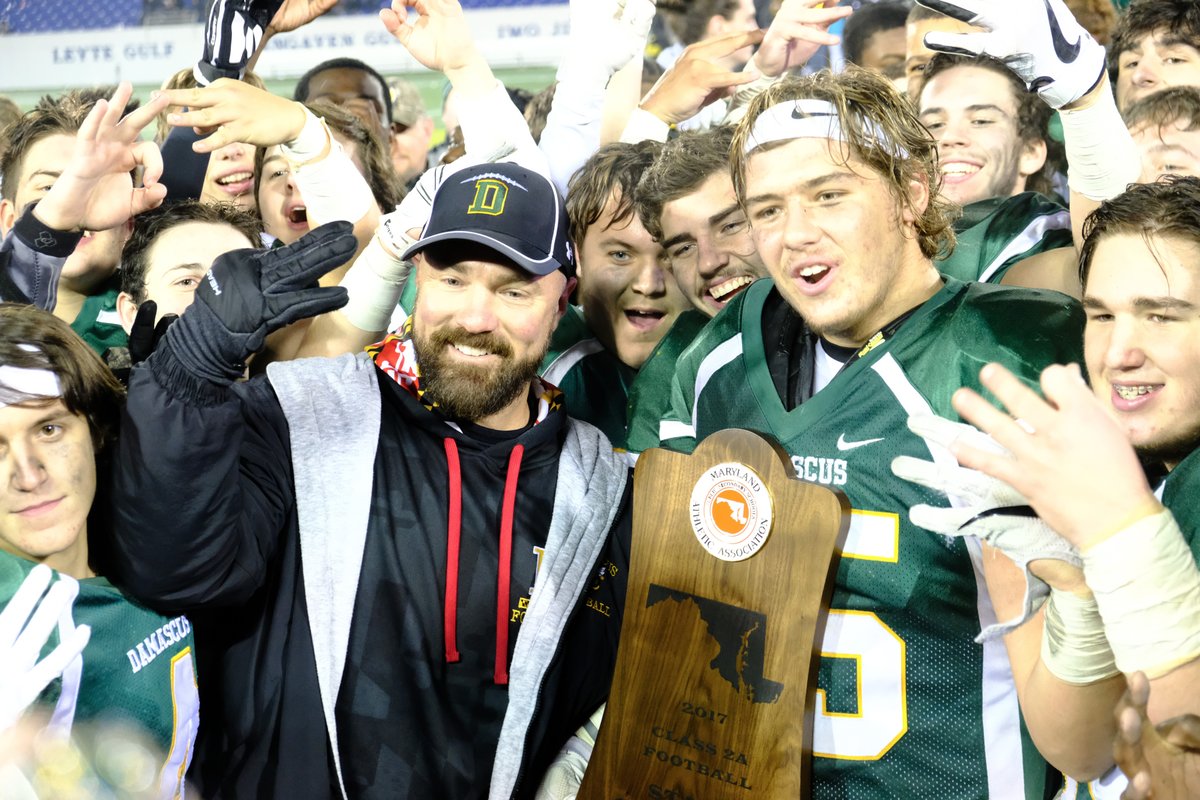 Damascus Swarmin' Hornets Win State Football Championship Game Three Years in a Row (PHOTOS)
For the third year in a row, the Damascus Swarmin' Hornets have won the Maryland state championship in football. They defeated the Gwynn Park Yellow Jackets, 31-7, Saturday night at Navy-Marine Corps Memorial Stadium in Annapolis. Damascus stretches their win record to 42 straight games.
The Swarmin' Hornets received the kickoff and scored with a touchdown drive in just 76 seconds. Gwynn Park responded on their first possession with a 80-yard touchdown run to tie the score at 7.
The Yellow Jackets did not score again. At halftime Damascus led by 10, 17-7.
The final score was 31-7, giving Damascus their third straight title, their first since moving to the Class 2A.
Watch the Hornets take the field, as captured by The Buzz, Damascus school paper:
Let's get started #dhshornets @DHS_Principal @DHS_Hornets @DmassFootball pic.twitter.com/Cf9keHcGzt

— The Buzz (@damascushsnews) December 3, 2017
Watch the final score of the game shared by Damascus Principal Casey Crouse:
Hornets TD. Score now 31-7. The Swarm said it…I believe that we wi!ll win pic.twitter.com/FFJbS05crJ

— Casey Crouse (@DHS_Principal) December 3, 2017
PHOTOS | Phil Fabrizio and Daryl Schultz
It's a Three_Peat repeat for @DmassFootball #swarminghornets as they defeat Gwynn Park 31-7 for their 3 state championship in a row. @mymcmedia @cszscores #mocofootball pic.twitter.com/5mLYEI290G

— Phil Fabrizio (@Photoloaf) December 3, 2017
Dickens scores again for @DmassFootball now 31-7 with 1:54 left in the game. @mymcmedia pic.twitter.com/IHvdfBwT2g

— Phil Fabrizio (@Photoloaf) December 3, 2017
Gallagher on the intercept with 6:39 remaining in the game. Damascus leads 24-7 @mymcmedia pic.twitter.com/o3edMVV3dJ

— Phil Fabrizio (@Photoloaf) December 3, 2017
Here we go 4th and final quarter is beginning with Damascus over Gwynn Park 24-7 in 2A State Championship pic.twitter.com/JgrNifcHym

— BayCountryPhoto (@SurfFishOBX) December 3, 2017
Check out Dr. Smith's halftime interview about the value of education-based athletics to the overall mission of @MCPS! Thank you Dr. Smith for your support of @MCPSAthletics! #WeRAISE @MPSSAA_Org pic.twitter.com/rGmjx9PAHB

— Jeff Sullivan (@mcpsad) December 3, 2017
Rice's Interception sets up Scoring possession for @DmassFootball asDickens goes in from the 2. 24-7 Damascus @mymcmedia pic.twitter.com/wj6yiQlnJ6

— Phil Fabrizio (@Photoloaf) December 3, 2017
Halftime in Annapolis as @DmassFootball leads 17-7 over @GwynnParkHS pic.twitter.com/t5jXKoivJQ

— Phil Fabrizio (@Photoloaf) December 3, 2017
17-7 Damascus with 1:23 left in the half. @mymcmedia pic.twitter.com/AUGy402Ftc

— Phil Fabrizio (@Photoloaf) December 3, 2017
Damascus field goal makes it 10-7 10:24 left in first half pic.twitter.com/4n7h3jFQIA

— BayCountryPhoto (@SurfFishOBX) December 3, 2017
Damascus 7 GwynnPark 7 as first quarter comes to an end pic.twitter.com/1bNRFsUyaU

— BayCountryPhoto (@SurfFishOBX) December 3, 2017
20 yd FG puts @DmassFootball up 10-7. On KO Dmass covers on 3 yd line @mymcmedia pic.twitter.com/df7omHLXQg

— Phil Fabrizio (@Photoloaf) December 3, 2017
End of 1st Qtr 7-7 tie. pic.twitter.com/SyvL4lilHF

— Phil Fabrizio (@Photoloaf) December 3, 2017
First play from scrimmage for @GwynnParkHS 80 yards end around. Tie score 7-7 @mymcmedia pic.twitter.com/vvzoksuePX

— Phil Fabrizio (@Photoloaf) December 3, 2017
Damascus marches down field after opening KO to score 7-0 @mymcmedia pic.twitter.com/52NPjpi1JK

— Phil Fabrizio (@Photoloaf) December 3, 2017
7 minutes to KO for 2A State Final. @mymcmedia pic.twitter.com/W4SEj9SAxn

— Phil Fabrizio (@Photoloaf) December 3, 2017
In 1 hour Damascus MD residents will gather along Rte 27 to cheer and send off @DmassFootball team to the 2A @MPSSAA_Org Finals in Annapolis. Game time 7PM @DHS_Swarm will be there so will be @mymcmedia Good Luck @DHS_Hornets against @GwynnParkHS Hornets pic.twitter.com/HLFO27Eatp

— Phil Fabrizio (@Photoloaf) December 2, 2017