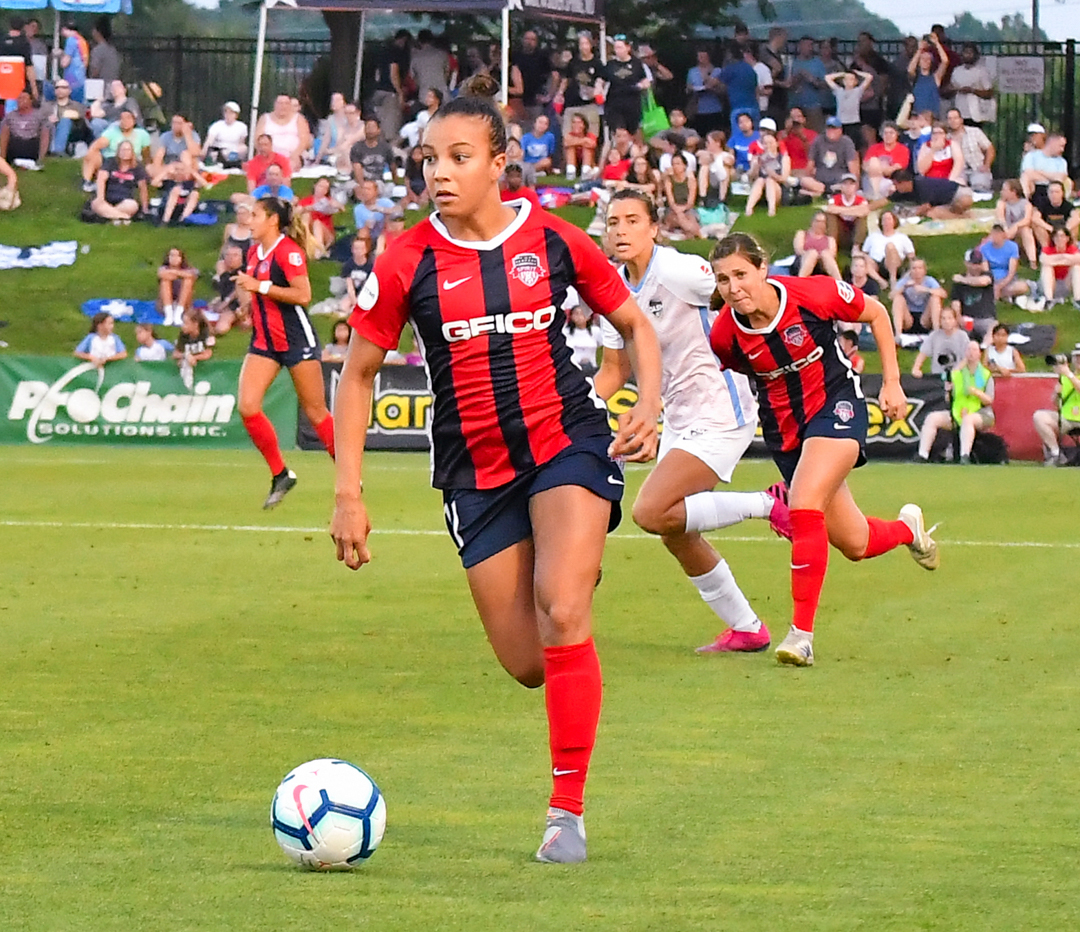 Dash Prevail as Spirit Welcomes Back World Cup Players
At a sold-out Maureen Hendricks Field in oppressive heat and humidity, the Houston Dash surprised the Spirit with a 2-1 victory on First Responders and Welcome Back World Cup players night.
The first half of play was relatively even for both teams. Halftime arrived with no goals by either team. Mother nature interrupted the halftime First Responders celebration just as they started tossing t-shirts into the stands.  A full hour passed before the all-clear was sounded and the match was restarted.
The Spirit scored first in the 52nd minute off a header by Jordan DiBiassi delivered to her by Sam Staab's ultra long throw in.  Staab has a sideline throw-in that equals what other players can only accomplish with their feet.
The Dash was not slowed by the Spirit scoring first.  They responded with a goal of their own by Kristie Mewis in the 56th minute.  Level at 1, both teams stepped up their efforts leading to a much more physical game that grew to three yellow cards in a short 18 minutes of the game.  During this yellow card generosity, the Dash scored their second and ultimately winning goal by defender Amber Brooks.
A potential draw in the match was gifted to the Spirit in the form of a penalty kick. Mallory Pugh took her time to read the keeper Jane Campbell. Once she was ready, Pugh took a running shot at the ball and launched a worm burner left.  Campbell read the kick and deflected it back into the box.  Dash players were already on the ball and clearing it out of the danger zone before the Spirit could get a second chance for a shot on goal.
After four minutes of stoppage time had elapsed, the whistle blew and a long night of delays, celebrations and ultimately a loss for the Spirit had ended. The Spirit play their next home match against the Chicago Red Stars on August 10th at 7 p.m.