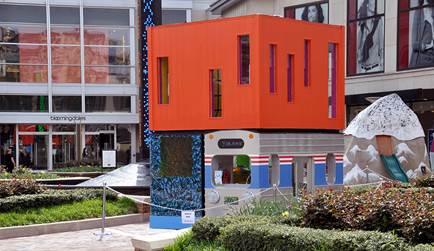 Davis Construction & The JBG Companies Support RTMC
Two members of the Twinbrook Partnership, James G. Davis Construction (DAVIS) and The JBG Companies, recently collaborated to construct a fun and unique playhouse to benefit Rebuilding Together Montgomery County (RTMC). The playhouse is on display at The Shops at Wisconsin Place and will be auctioned at the RTMC Playhouse Project Live Auction & Reception May 29.
RTMC launched the first RTMC Playhouse Project in 2012 and raised $114,000, which allows the nonprofit to undertake 120 home repairs projects each year by mobilizing 1,500 volunteers and delivering $1.3 million back to the community. To learn more about RTMC, please visit www.rebuildingtogethermc.org.
Created with Studios Architecture and Orr Partners, the playhouse incorporates transit-oriented, mixed-use and sustainable design concepts. It features a train car, market, apartment and fire pole connecting two levels. Named "Live Move Play," the 8'x10'x12' playhouse — along with seven other one-of-a-kind houses built by industry professionals — will be auctioned as part of a large-scale fundraiser on May 29 to benefit RTMC in its mission to provide critical home repairs and energy efficiency upgrades to the county's most vulnerable residents.
"DAVIS Construction and JBG's commitment to philanthropy is well established," said Ashley Lambdin, director of the Twinbrook Partnership, a private neighborhood and business alliance dedicated to promoting Rockville's Twinbrook community. "Their involvement in RTMC's Playhouse Project exemplifies the commitment by Twinbrook Partnership members to not just our district, but the broader community."
DAVIS Construction, JBG and their partners completed the design, procured donated materials through relationships with subcontractors, and constructed the playhouse in eight weeks. All playhouses will be on display through the month of May at The Shops at Wisconsin Place.
Members of the Twinbrook Partnership have led the transformation of the area into a dynamic mixed-use district. Both DAVIS Construction and JBG have significant interests in Twinbrook and are developing new, mixed-use projects on both the east and west sides of the community's Metro station with the encouragement of local officials.
Within Twinbrook, DAVIS Construction and JBG are collaborating on Galvan and The Terano, two exciting mixed-use developments that combine more than 500 residential units and more than 130,000 square feet of retail space, enhancing the growing transit-oriented Twinbrook community.
On the west side of Twinbrook Metro Station next to the Rockville Hilton, Galvan will feature 356 apartments, 15 percent of which will be dedicated as affordable, paired with 100,000 square feet of street-level retail, including a 63,000 square-foot flagship Safeway. Other retailers will include an Ethan Allen Design Center along with restaurants and cafés with sidewalk seating. Galvan is expected to deliver in 2015.
On the east side of Metro, The Terano will offer 206 apartments, 15 percent dedicated as affordable, and 33,000 square feet of street-level retail. The Terano will include popular retailer Revolution Cycles and a bicycle maintenance center for residents. The Terano is adjacent to The Alaire, JBG's first mixed-use community in Twinbrook which opened in 2010, and is a joint venture project with the Washington Metropolitan Area Transit Authority.