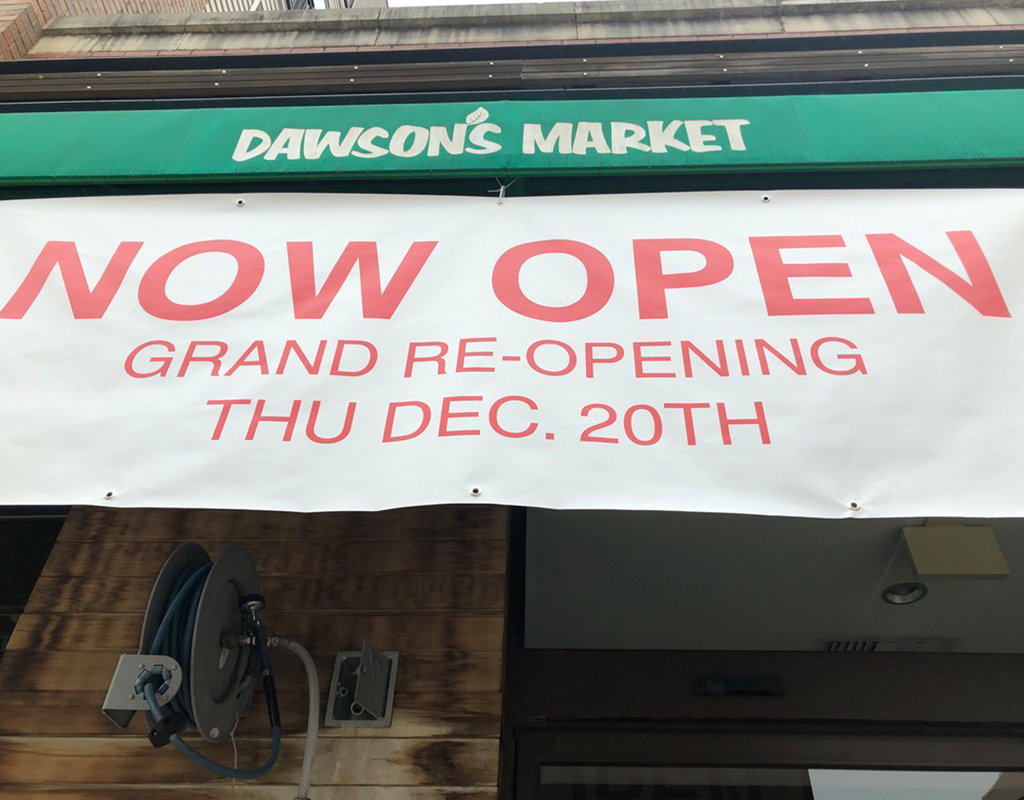 Dawson's Market Returns to Rockville Town Square
Community members won their fight to bring Dawson's Market back to Rockville Town Center.
Indeed, the beloved grocery store, which distributes locally grown foods, has re-opened after closing its doors on Oct. 27.
The store closed amidst other businesses closing in Rockville, including the Mellow Mushroom, and the Apollo restaurant. There was so much backlash about these closings that the City of Rockville held a forum for residents to voice their concerns.
Bart Yablonsky, Dawson's former general manager and new owner, never gave up on restoring the beloved grocery store.
Antonio Zeleya, one of the 64 employees to lose his job when Dawson's closed, said Yablonsky personally promised to bring back his job.
"He promised it would open and after the third of fourth week I was skeptical," said Zelaya. "[Yablonsky] finally called me and said 'You haven't answered my emails … are you coming back?'"
Zelaya  "jumped" at the opportunity to return; he was devastated to lose the connections he built with customers. Many other former employees have also returned to working at Dawson's.
At the ribbon cutting, Maryland State Senator Cheryl Kagan praised Rockville residents "for stepping up" to help re-open Dawson's.
She presented Yablonsky with a Senate Citation.
"Congratulations on re-opening after 54 days, 12 hours, 15 minutes, and 10 seconds—not that we were counting—the heart of Rockville hasn't been the same without you," said Kagan.
Kagan also praised Councilmember Sydney Katz for his work in re-opening Dawson's.
Now that Dawson's is back, Katz encourages residents to shop there so it continues to grow.
"The most important part of the puzzle is that we need to shop here," said Katz. "Every business—especially a small business—cannot exist without customers."
Yablonsky said customers can expect the foods they love from Dawson's, and also some non-organic foods to attract more customers.
Photos from the Ribbon Cutting
Live Tweets from the Grand Opening 2.0
Thread: @DawsonsMarket in @RockvilleTownSq is reopening under new management today! I'm at the ribbon cutting! pic.twitter.com/wx8MyYVOUb

— Deirdre Byrne (@DeirdreByrneMCM) December 20, 2018
@MC_Council_Katz tells people at the @DawsonsMarket reopening now they need to SHOP at the market to celebrate its return! pic.twitter.com/GN9mHLO7CU

— Deirdre Byrne (@DeirdreByrneMCM) December 20, 2018
Bart Yablonsky was critical in saving @DawsonsMarket.

After it closed, Yablonsky—the former general manager—kept in contact with the workers who lost their jobs. He promised to do what he could to get it to reopen.

As the new owner of Dawson's, Yablonsky kept his promise. pic.twitter.com/cdzrHUXbms

— Deirdre Byrne (@DeirdreByrneMCM) December 20, 2018
Here's the video of Yablonsky and his son cutting the ribbon marking the new grand opening of @DawsonsMarket!

It's back in @RockvilleTownSq just in time for Christmas and New Year's! pic.twitter.com/kr8dHNC60Z

— Deirdre Byrne (@DeirdreByrneMCM) December 20, 2018