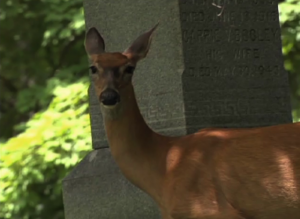 Deer Harvest Posts Small Decline in Montgomery County
Montgomery County hunters killed fewer deer over the 2017-18 deer season compared with the 2016-17 season, the Maryland Department of Natural Resources reported Friday.
The county deer kill was 4,783 in the 17-18 season, compared with 4,873 in the 16-17 season, a 1.8 percent decline.
The numbers combine the archery, firearm and muzzleloader seasons from Sept. 8, 2017, to Jan. 31, 2018.
Statewide, state hunters killed 86,542 in the 17-18 season, an increase of 1,349 over the previous year.
The statewide number includes 7,204 deer taken on Sundays. DNR did not provide county-level numbers for Sunday hunting.