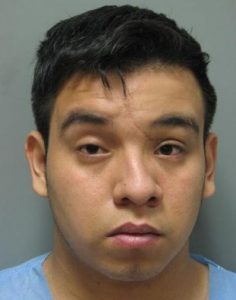 Defense Attorney Waives Preliminary Hearing for 18-Year-Old Defendant Charged with Rape at Rockville High School (VIDEO)
In a Rockville District courtroom today, defense attorney David Hollenberg waived a preliminary hearing for Henry Sanchez, the 18-year-old defendant accused of raping a student at Rockville High School on March 16.
Outside the courthouse, Hollenberg explained that the defense team is waiting for more discovery from prosecutors.
"We understand the state's attorney's office will be providing us with additional discovery in this matter, and we look forward to reviewing that discovery," said Hollenberg.
Hollenberg said the defense team is also waiting for an indictment in the case, and he maintained his client's innocence.
"We are confident that he will be found completely innocent of all charges," Hollenberg said.
Judge Patricia Mitchell set Sanchez's next hearing for May 12.
As for the status of his client's immigration case, Hollenberg said he was focused on the criminal case and could not comment.
In addition to Sanchez, a 17-year-old also has been charged in the rape case. MyMCMedia generally does not name juveniles who have been charged with crimes. Lawyers for the 17-year-old are due back in court on May 5th for a felony dismal date.