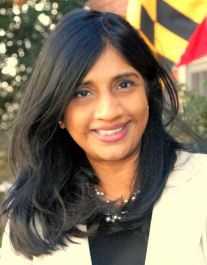 Del. Aruna Miller Wins EMILY's List Endorsement
Delegate Aruna Miller, who is seeking the Democratic nomination for the 6th Congressional District, has been endorsed by EMILY's List, which supports women in politics.
Miller of Darnestown is seeking the seat being vacated by Rep. John Delaney, the third-term congressman who is not seeking re-election so he can run for president. A number of Democrats are also seeking the seat, including Total Wine and More founder David Trone of Potomac, Del. Bill Frick of Bethesda, state Sen. Roger Manno of Silver Spring and Andrew Duck of Brunswick.
"I am so honored to have been endorsed by them. This is big news for my campaign," Miller said in an interview.
Miller already has surpassed $350,000 for her campaign.
Miller has worked for 25 years for Montgomery County as an engineer. She was first elected to the Maryland House of Delegates in 2010. A member of the Appropriations Committee, Miller represents the 15th District, which includes Potomac, Poolesville and much of the Montgomery County's Ag Reserve.
According to a news release from EMILY's List, the organization is the nation's largest resource for women in politics and has raised more than $500 million to support Democratic women candidates. Founded in 1985, it has helped elect 116 women to the House of Representatives, 23 to the Senate and more than 800 to state and local offices. EMILY stands for Early Money Is Like Yeast.
On the Emily's List webpage, Miller is described as a first-generation American who came to the this country from India when she was 7 years old.
"Although currently held by a Democrat, this is the least reliably Democratic congressional district in Maryland and a must-win seat in our efforts to take back the House," EMILY's List says on Miller's webpage. "Additionally, there are no women in Maryland's federal delegation, and this is our best chance to ensure that a woman has a seat at the table."
Miller said, "I am so grateful for all the opportunity that the United States has given me and this is my way of giving back." She said many people are dissatisfied with government at the federal level since the 2016 election.
"I'm not going to roll over. I'm going to fight as hard as I can just like the people have done so for me," Miller said.