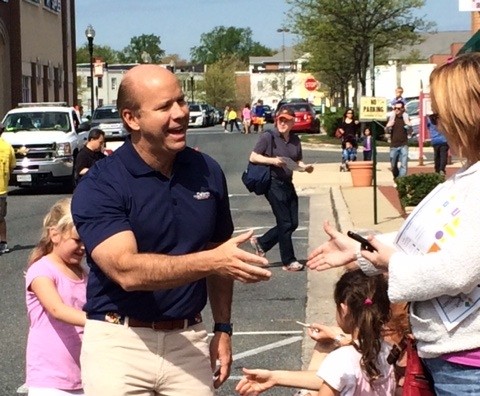 Delaney Declaring Victory in Sixth District, Bongino Says Too Close to Call
UPDATED, Nov. 5, 10 a.m. –  Congressman John Delaney is declaring victory in the 6th District against John Bongino, but Bongino isn't ready to cede the race just yet.
In a statement released Wednesday morning, Delaney stated, "I am humbled and honored to have been elected by the people of the Sixth District to represent them again in Congress. April and I would like to thank everyone who supported our campaign. After a spirited campaign that defied national and statewide trends, Sixth District voters endorsed our bipartisan approach. Nationwide, Tuesday's results make it clear that voters want a new approach in Washington, not more dysfunction. I'm committed to continuing to work across the aisle to create jobs and stand up for the people of the Sixth District, wherever they live, whatever their party."
In a Facebook post Bongino said, "The race is currently too close to call, due to the number of absentee ballots to be counted, and after 48,775 phone calls, 27,612 doors knocked, and countless hours spent face-to-face speaking to Marylanders about what keeps them up at night, I feel it is only appropriate to allow every vote to be counted. No matter the outcome, I want to thank my opponent for his spirited effort. Although we differ in our approach to a better tomorrow, we both share a common desire to put in the work today necessary to get there."
Most  still consider the race as too close to call.
ORIGINAL – 
The race for the 6th Congressional District seat is still well- a race.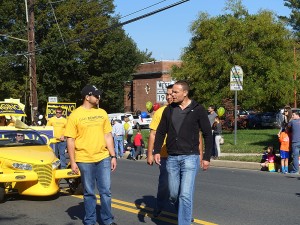 With the latest state board of elections results posted it looks like it will take those absentee ballots, which will be counted starting Thursday to choose a winner between incumbent John Delaney and his Republican challenger Dan Bongino. The results show 89,318 votes for the incumbent with Bongino tallying 87,152 votes. That puts them about 1 percent away from each other.
Calls to both campaigns were not immediately returned Wednesday morning.
According to his tweets, Delaney crisscrossed his district Tuesday, meeting voters in Hagerstown, Gaithersburg and Frederick
Talking to voters at Quince Orchard HS. Don't forget to vote! Polls open until 8 in MD

— John Delaney (@JDelaneyforMD) November 4, 2014
Talking to voters in Frederick. Polls stay open til 8. Don't forget to vote! — John Delaney (@JDelaneyforMD) November 4, 2014
Working the polls in Hagerstown

— John Delaney (@JDelaneyforMD) November 4, 2014
At one point during the evening, Delaney trailed his challenger and and it was all the talk among political watchers and local politicians.
John Delaney is trailing Bongino. — George Leventhal (@georgeleventhal) November 5, 2014
With 100 percent of precincts reporting, #MD6 is too close to call. Rep. Delaney has a 2,200-vote lead on GOPer Dan Bongino.

— Kevin Robillard (@PoliticoKevin) November 5, 2014

In the race for the 8th Congressional district seat, incumbent Chris Van Hollen outpaced Republican challenger Dave Wallace, with Van Hollen tallying 60 percent of the vote to Wallace's 39.5 percent.