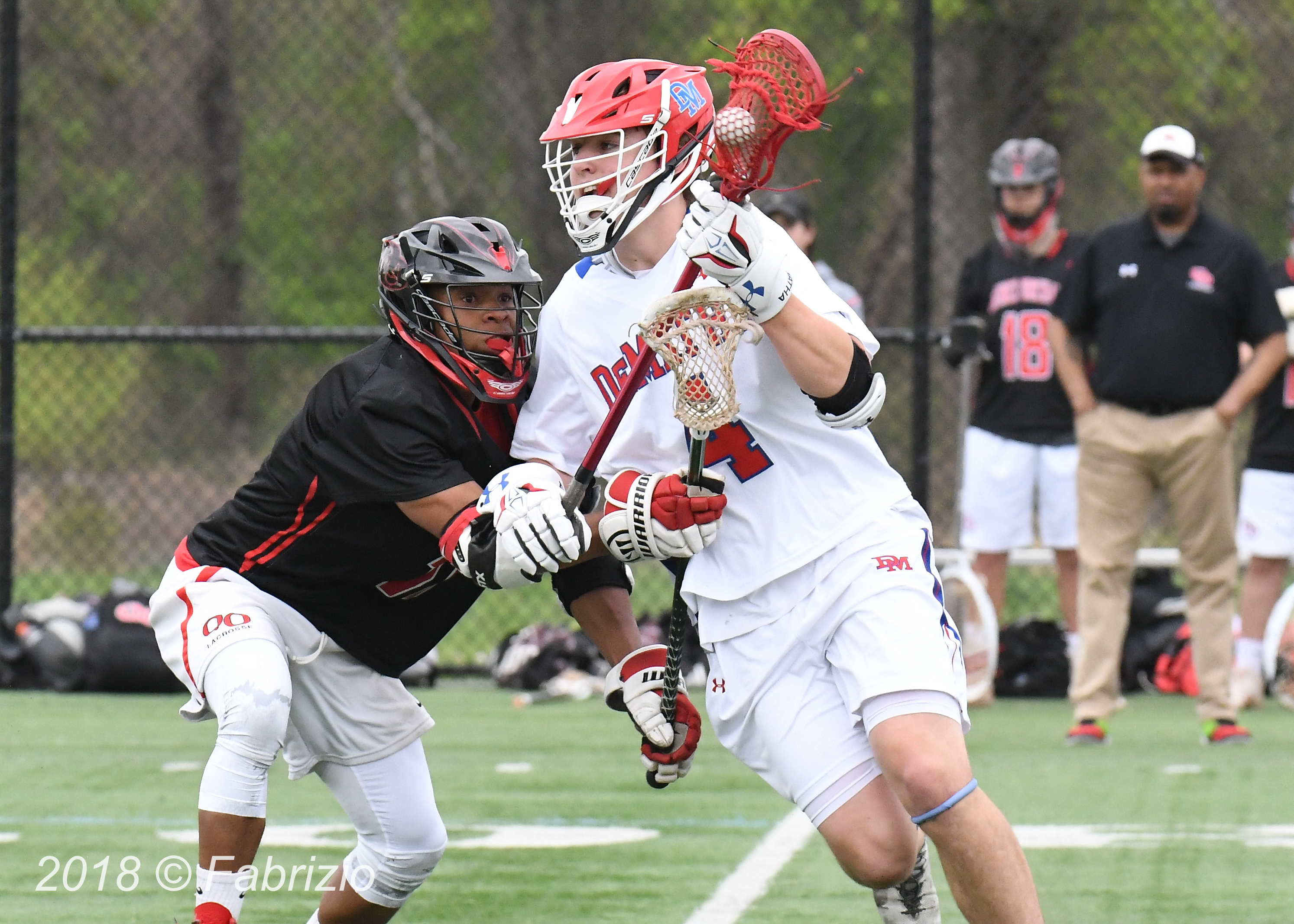 DeMatha Lacrosse Upends Quince Orchard, 21-3
In what otherwise might be misinterpreted as a football score, DeMatha Boys Lacrosse defeated Quince Orchard by a score of 21-3.  The Cougars had a tough seven days facing top ranked lax competition at Churchill on April 21, then Bullis April 25th, then traveled to Hyattsville to take on the Stags.  Top of the Class competition in the MD 4A, the IAC with Bullis and what might be a down year for DeMatha in the WCAC.  Hand it to the Cougars for taking on the classy competition, the only team they lacked to challenge in this trifecta of 2018 DMV area school boy sports year was W.T. Woodson over in Fairfax, Va.
It by far was the most sportsman-like game of lacrosse that I ever photographed.  Not one man-up penalty by either team, it was a very clean game.  Certainly, the Cougars lacked in winning face-offs.  It may not be a skill set that they excel at this season but hand it to the Stags who won over 90% of them – thus controlling the game.
At times it appeared as if the Stags could score at will, especially in what was an 8-0 first quarter score.  The Cougars got their bearing straight during the second period finding the back of the net three times but by then it was a 12-3 game at half.  Defensively, the Cougars held the Stags to four scores in the third as DeMatha substituted freely to build up bench strength.  By the start of the 4th quarter a tired QO team did their best to hold off the Stag's scoring opportunities. To my recollection the Cougars never advanced the ball past mid-field to challenge the DeMatha goalie in the last quarter, as I sat there waiting 20 yards away from the net.
In the end it was that football score total of 21-3 that marked the end of a tough three games in seven days stretch for Quince Orchard lacrosse.
Good luck to both teams as they head into May as the eventual playoff scenarios play out in those tough MD 4A State's and the area wide WCAC conferences.
Phil Fabrizio
All photos copyrighted 2018 © Fabrizio | PhotoLoaf® for MCM
Photos to follow