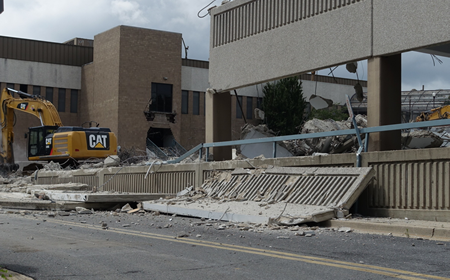 Demolition of White Flint Mall Parking Garages Begins (PHOTOS)
Demolition of three sections of the White Flint Mall parking garage started July 8, according to a community notice letter signed by Desharri Bell, general manager of the White Flint Mall.
The work is scheduled to take place between 7 a.m. and 7 p.m. Monday through Friday and will follow Montgomery County codes and regulations.
Bell wrote "For safety reason, the roadways along this demolition site perimeter will be closed during the aforementioned times, but will re-open each evening. The roadways will remain open on Saturday and Sunday, and all observed national holidays."
"We are very excited. This is a long awaited and wonderful step towards our new future," said Amy Ginsburg, executive director of Friends of White Flint.
Friends of White Flint shared the news in their blog.
See photos of the site.

Related: