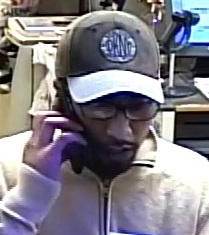 Detectives Believe Same Suspect Committed String of Bank Robberies
After further investigation, detectives believe that four bank robberies were committed by the same suspect.
Police say each of the four crimes was committed at SunTrust Banks located inside Safeway grocery stores. Most recently, on April 4, a SunTrust bank located inside the Safeway grocery store located on the 15000 block of New Hampshire Avenue in Cloverly was robbed. Detectives say the suspect displayed a note to a teller demanding cash before fleeing.
Police are asking that anyone with information about the suspect, or these bank robberies, to please contact the Montgomery County Department of Police – Major Crimes Division at 240-773-5100. To be eligible for a reward, tipsters may call Crime Solvers of Montgomery County toll-free at 1-866-411-TIPS (8477). Crime Solvers will pay a cash reward of up to $10,000 for information provided to them that leads to the arrest and/or indictment of this suspect. Police say tipsters may remain anonymous.
See previous related post below:
Grocery Store Bank Robber Strikes Same Bank Twice in Rockville