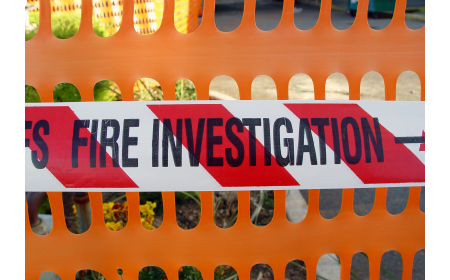 Dickerson House Fire (Photo)
Two Montgomery County firefighters were injured battling a house fire in Dickerson during the early morning hours.
At 3:30 a.m. on Saturday, Jan. 19, Montgomery County firefighters responded to the report of a house fire at the 19700 block of Mouth of Monocacy Road.
Firefighters arrived on the scene and encountered a well established fire on the first and second floor, according to Assistant Fire Chief Scott Graham.
Graham said two adult occupants of the home escaped prior to the arrival of fire rescue crews. He said the occupants stated that they were awakened by smoke and saw fire in the wall around the stovepipe. A disabled smoke alarm was found in the home, according to Graham.
The occupants were unable to extinguish the blaze, which also involved nearby combustibles.
While fighting the fire, one firefighter suffered second degree burns on his hand, Graham said. Another firefighter was mildly shocked when the structure's electric service line came in contact with the aluminum siding.
No civilians were injured. Both firefighters were transported to a local trauma center with non life threatening injuries. One of the firefighters has been released and the second is being held for observation, according to Graham.
The fire has been ruled accidental and is believed to have started in or near the wood stove, Graham said.