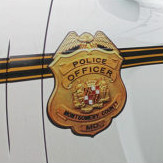 Dickerson Man Charged with Impersonating Police Officer (VIDEOS)
Montgomery County police have accused a 19-year-old Dickerson man of impersonating a police officer, after he was pulled over by a Montgomery County police district commander.
Now detectives want to know if the public had any other encounters with him, where he presented himself as a legitimate member of a law enforcement agency.
Philip Jonathan Ross, 19, of Old Hundred Road, was released on his recognizance, according to online court records.
He was arrested by Wheaton district commander, Capt. Laura Lanham. Lanham spotted Ross about 4 p.m. June 12 in a Ford Crown Victoria on the Intercounty Connector, a police statement said. Here's how Lanham describes seeing the car on the ICC, and what aroused her suspicions:
Lanham also described the concerns police have over impersonators: