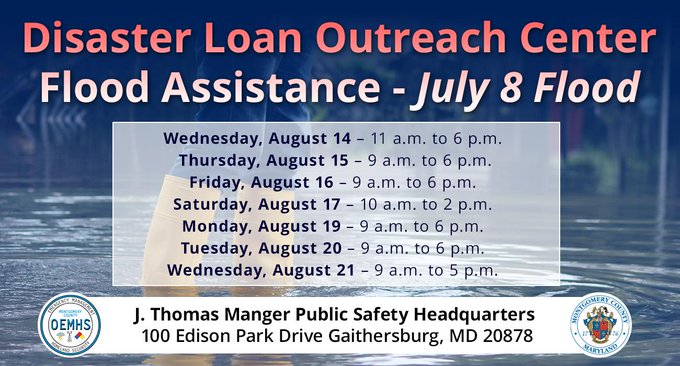 Disaster Loans for July 8 Flood Offered to MoCo Residents and Businesses
The  U.S. Small Business Administration  is making disaster loans available to those affected by the July 8 floods. Montgomery County's Office of Emergency Management and Homeland Security is hosting a Disaster Loan Outreach Center (DLOC) to help residents and businesses who may be eligible for financial assistance due to damage from the July 8 flood.
The SBA provides low-interest, long-term disaster loans to businesses of all sizes, private non-profit organizations, homeowners, and renters to repair or replace uninsured/underinsured disaster damaged property.
Loans up to $200,000 are available to homeowners to repair or replace damaged or destroyed real estate. Homeowners and renters are eligible for loans up to $40,000 to repair or replace damaged or destroyed personal property. Businesses and private nonprofit organizations may borrow up to $2 million through the SBA to repair or replace disaster damaged or destroyed real estate, machinery and equipment, inventory and other business assets.
The DLOC is located at the J. Thomas Manger Public Safety Headquarters located at 100 Edison Park Drive in Gaithersburg. The DLOC will be staffed by the SBA to assist affected business owners and residents with questions about disaster loan program, and help individuals complete their applications. Those visiting the DLOC must present a government-issued photo ID.
Montgomery County is eligible for SBA disaster loan assistance because Arlington County VA, met the threshold for a SBA disaster declaration.
The scheduled date and hours of the DLOC are:
Friday, Aug. 16 – 9 a.m. to 6 p.m.
Saturday, Aug. 17 – 10 a.m. to 2 p.m.
Monday, Aug. 19 – 9 a.m. to 6 p.m.
Tuesday, Aug. 20 – 9 a.m. to 6 p.m.
Wednesday, Aug. 21 – 9 a.m. to 5 p.m.
ICYMI: Low-interest loans may be available to County residents and businesses impacted by 7/8 flooding. @ReadyMontgomery is hosting Disaster Loan Outreach Center to assist those who may be eligible for financial aid due to damage from 7/8 flood. More at https://t.co/t8jM8ZRRCd pic.twitter.com/HErB610DTm

— Montgomery County MD (@MontgomeryCoMD) August 15, 2019
More information is available on the website.