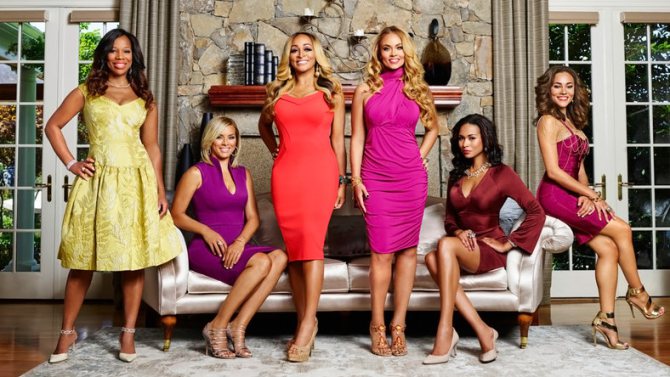 Distorted Reality: Real Housewives of Potomac Week Three Recap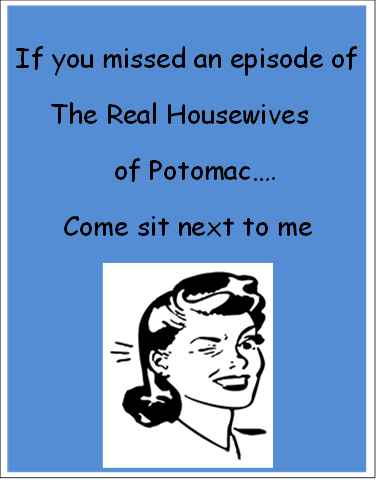 I had a slight fever Sunday evening and I highly recommend watching RHOPo in the fog of some serious antihistamines and the quasi-delirium of sickness.
Because I swear on my entire stash of over the counter meds,  Week three was not too shabby. Or less painful. Or something.
It was like a fairy sprinkled sanity dust for one golden hour and made it only a little whacky. You know, more on the level of a normal Housewives episode.
The most magical aspect for me? No kitchens. Not one wood trimmed drawer or cabinet to be seen.
Let us all say it together, "Amen."
That youngster Ashley continued to shake things up by hosting a Whiskey tasting. Not only did we learn that whiskey is not champagne (thank you Karen for the clarification) but the ladies had to trudge to the basement of the bar for the event.
LIKE THE HIRED HELP.
There, they were surrounded by an inferior segment of the population wearing…
GASP!
Flip flops.
Commoners had somehow invaded their space and heads would roll. Or many shots would be consumed to overcome the shabby surroundings.
Now, I'm not sure what the Potomac Etiquette Book says about ladies tossing back shots of whiskey like water, but Gizelle was getting it done. I counted at least six that she sucked down like a frat boy on a Spring Break bender.
This is the moment, historically, in Housewives episodes where the gloves come off. The alcohol loosens all those MAC covered lips and all hell breaks loose.
But those Potomac gals got all sappy; accepting apologies and singing Kumbaya right there in the middle of all that bad paneling in the bar.
It was like a Disney movie with cleavage.
Speaking of cleavage, we were real live voyeurs as Katie got all sexy and purred her specific marriage demands to "don't-put-a-label-on-me" Andrew. And then Andrew came up with the line that will be uttered by altar evading men until the end of time.
"You are like a diamond miner, chip, chip, chipping away.."
Which makes an ultimatum sound like a bad thing.
Sunday, Katie informed us that she has been "a socialite since she was in diapers." I don't personally know any socialites, living 10 miles outside of Potomac and all, but I am guessing that Marjorie Merriweather Post never had to tell anyone she was a socialite.
Katie is hoping that the rockin', post-baby, bikini bod makes us forget that she is maybe, most likely not getting membership invites from Mensa.
Gizelle, ever the pragmatist, insisted that her Potomac cronies were all grown women and should be able to talk things over. Absent from this insightful commentary was the word "mature."
Oh that Gizelle, it's like she was reading our minds….
"Old enough to know better but not smart enough to get out of our own way."
Wait, did I just come up with a new slogan for RHOPo?
Am I becoming desensitized? Are the ladies really more tolerable?
We will have to see what a non-medicated Week four looks like.
What do you think?