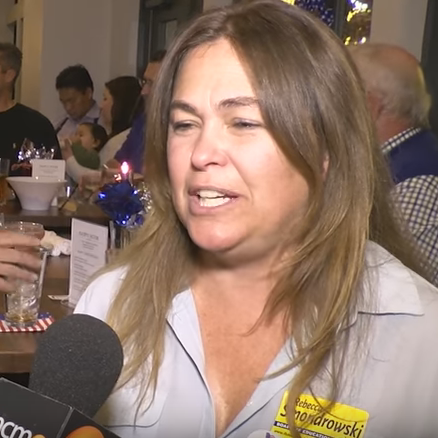 Dixon, Evans and Smondrowski Win School Board Races (VIDEO)
Jeanette Dixon, Shebra Evans and Rebecca Smondrowski won their school board races on election night, according to unofficial election results.
Dixon, a former teacher and principal, upset incumbent Board of Education member Phil Kauffman with over 55 percent of the vote in the at large race.
Smondrowski was reelected to the Board of Education with more than 66 percent of the vote over her challenger Brandon Rippeon.
Newcomer Shebra Evans won her race with more than 67 percent of the vote.
Board of Education At Large
(VOTE FOR) 1
(WITH 264 OF 267 PRECINCTS COUNTED 98.88%)
Jeanette Dixon. . . . . . . . . 183,773 55.89
Phil Kauffman . . . . . . . . . 142,951 43.47
WRITE-IN. . . . . . . . . . . 2,095 .64
Total . . . . . . . . . 328,819
Board of Education
(VOTE FOR) 1
(WITH 264 OF 267 PRECINCTS COUNTED 98.88%)
Brandon Orman Rippeon . . . . . . 101,279 32.63
Rebecca Smondrowski . . . . . . . 207,002 66.69
WRITE-IN. . . . . . . . . . . 2,125 .68
Total . . . . . . . . . 310,406
Board of Education
(VOTE FOR) 1
(WITH 264 OF 267 PRECINCTS COUNTED 98.88%)
Shebra Evans . . . . . . . . . 206,632 67.99
Anjali Reed Phukan . . . . . . . 95,004 31.26
WRITE-IN. . . . . . . . . . . 2,281 .75
Total . . . . . . . . . 303,917