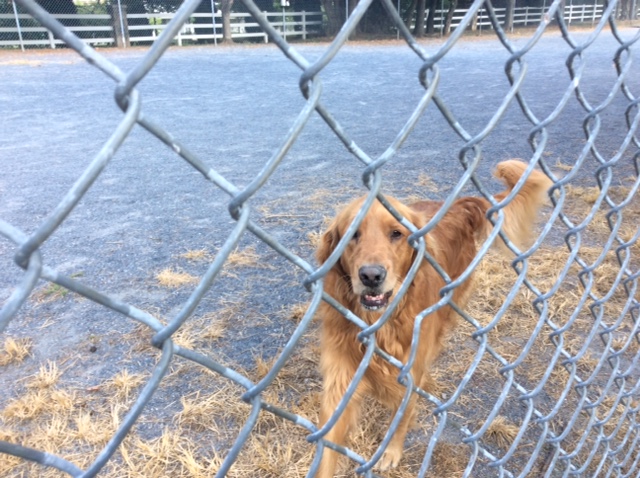 Dog Owners Protest New Rules at City's Dog Park (PHOTOS)
UPDATED Over a dozen dog owners attended a Gaithersburg City Council meeting on Monday night to let local leaders know they were upset about a change in the usage policy at the dog exercise area of Green Park.
City residents and residents who live just outside the city limits took turns testifying during the public comment section of the meeting against a recent ban on nonresident dogs at Green Park. The new rule went into effect on Aug. 3.
The dog owners' message to Gaithersburg leaders: "Keep our dogs together."
One resident who lives in the Washingtonian Rio section of Montgomery County said her kids gave her a dog for companionship. While exercising her dog at Green Park, she said she found a new community and new friends.
Other residents noted that many of the dog park users see each other everyday. They even have a Facebook group, Green Park Dog Exercise Area, to share photos and stories.
Another resident who lives right outside the city limits asked leaders to remember that the park is named Green Park. She said it makes no sense, and is not very green, to send residents on the road to drive miles to exercise their dog elsewhere.
There was applause for residents who questioned the notification process and who testified that they were not notified of the policy change until after it was implemented. Other city residents and non-city residents asked that current dog park members be grandfathered in so they can continue using the facility. Some non-city residents said they would pay up to $300 a year, or five times the current rate, to utilize the dog exercise area at Green Park.
Before the testimony even wrapped up, Gaithersburg Mayor Jud Ashman asked city staff to explore other options and to come back to the Council with more information.
Because of concerns about communication on this issue, residents wanted to know how they would be notified when the topic would be back on the city leaders' agenda. They pointed to a bulletin board at the Dog Park that could be used as a communication tool. City officials also encouraged the residents to sign up for the city's online electronic newsletter.
Gaithersburg City Manager Tony Tomasello assured residents and Councilmembers that this policy change was not a revenue issue but operational based. That comment, at the end of the public discussion, brought even more applause from the passionate dog owners in the crowd.
ORIGINAL POST Some Montgomery County dog owners are speaking out against a new rule at the city of Gaithersburg's dog exercise area at Green Park.
As of Aug 3rd, the dog exercise area at Green Park is only for the use of city residents with licensed dogs.
In the past, dog owners who live outside the city limits could pay an annual fee to use the facility. Those nonresidents whose annual memberships have not yet expired will be allowed to use the park until their membership expires. Otherwise, city officials are encouraging nonresidents to visit other dog parks around the county.
The new rule came as a surprise to some of the dog owners who frequent the park.
"I am perplexed as to why an under utilized park would want to exclude responsible dog owners that pay dues," wrote Terri Sedran in an Aug. 13th email to Gaithersburg Mayor Jud Ashman. "Visiting a near empty dog park defeats the benefits of a dog park."
Sedran has been bringing her dog to the park for over three years.
Another Gaithersburg resident wrote city officials asking for an amendment allowing non-city residents to be admitted.
"A dog park with no dogs is a tragedy," said Gaithersburg resident Lynn Kegler in an Aug. 11 email to city officials.
Bill Garrett lives outside the city limits and he's been taking his dog, Duchess, to the dog exercise area for the past few weeks. Under the new rules, they are not allowed to play there. Garrett said he hopes city leaders change their minds about this new rule.
A petition to amend Chapter 15A-17 banning nonresident dog park members is now circulating around the city and some area dog owners said they are planning to speak out during the public comments section of the Aug. 17th City Council meeting.