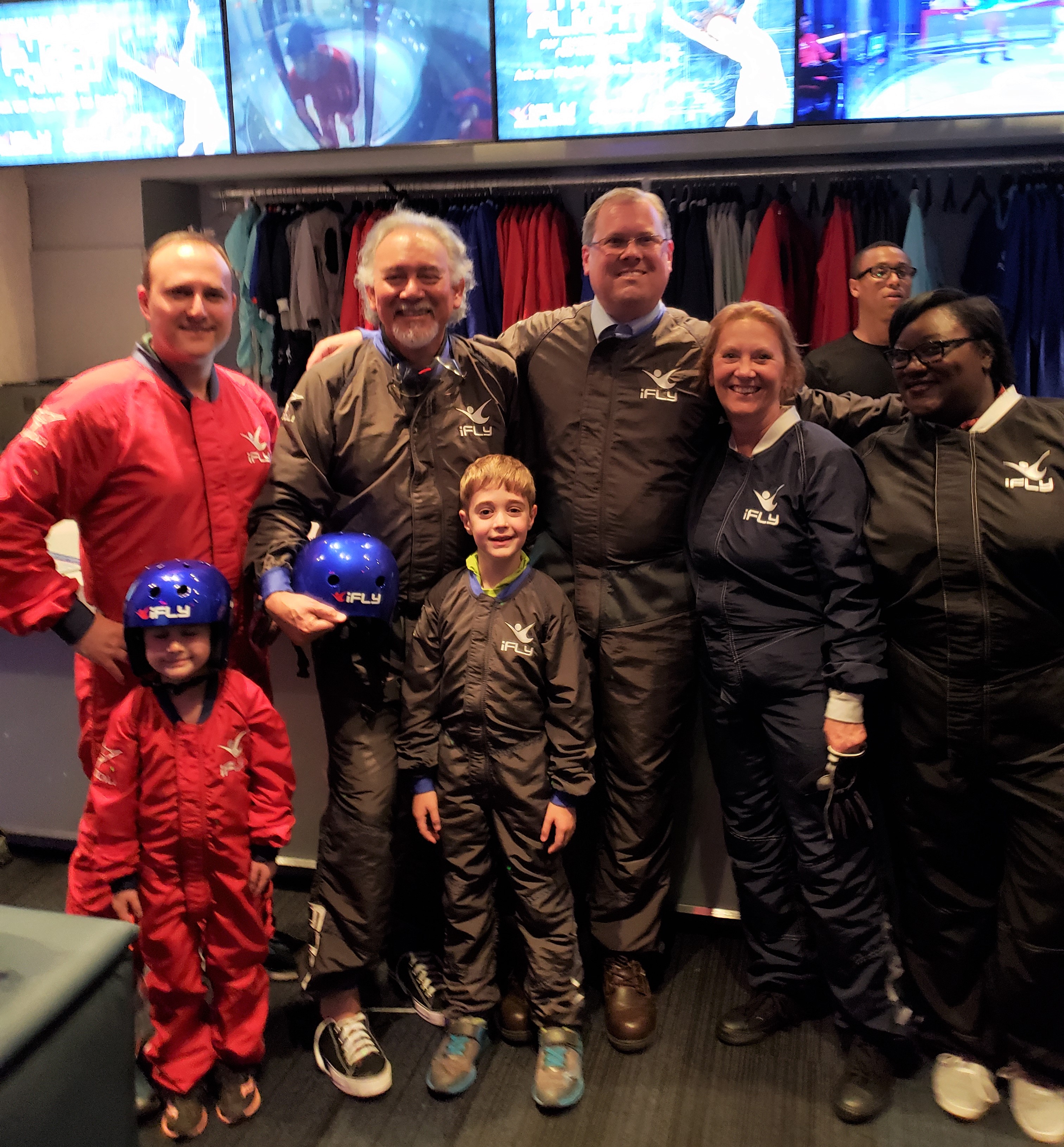 You Don't Need a Parachute to Skydive in Gaithersburg
You can now take flight in Montgomery County, a skydive flight that is. As many drivers along I-270 might have already noticed, iFLY recently opened its doors to a brand-new facility in Gaithersburg at 9318 Gaither Road.
The Gaithersburg-Germantown Chamber of Commerce (GGCC) supported iFLY Montgomery and celebrated the grand opening of their Gaithersburg location by conducting a Ribbon Cutting Ceremony on Wednesday, June 13, 2018.
iFLY is the simulation of true freefall conditions in a vertical wind tunnel. It's where the dream of flight becomes a reality. Over 60 Chamber Members & elected officials suited up in their flight gear, grabbed some protective gear, took a quick "how to fly" class and then soared to new heights with a certified International Bodyflight Association (IBA) iFLY instructor.
This is a tremendous business opportunity for the GGCC as iFLY Montgomery brings the thrill of freefall flight to 32,000+ businesses and their 370,000+ employees. Every iFLY indoor skydiving facility is a marvel of engineering that creates conditions that allow people to lean in and float on a smooth cushion of air. With the help of iFLY certified flight instructors, customers learn to fly, control their bodies in the air and experience true human flight.
iFLY is the experiential entertainment company that created modern indoor skydiving and our Members enjoyed the flights, the staff and it's a fantastic addition to the community & an experience to remember.
They have flight school too. With additional training, flyers can progress to group flying and advanced aerial maneuvers to further enjoy the sport of indoor skydiving. Flight School is for kids ages 4-16 and various adult league nights and coaching programs. Learn more about them at: www.iflyworld.com/montgomery. Or call them at 202- 883-4359 to book your flight, schedule a party, or corporate event. Discover iFLY.
FAQs on Indoor Skydiving
What is the indoor skydiving experience like?
To prepare for their flight experience, customers complete a training class guided by one of iFLY's flight and safety instructors. They are then equipped with flight gear, including goggles, helmet and flight suit, and enter the flight chamber by leaning forward into a smooth cushion of air, with a flight instructor at their side.
How does it work?
A vertical wind tunnel has fans at the top to draw air through the flight chamber and then push it back down the sides through Return Air Towers. That leads to an inlet contractor that compresses and speeds up the air before it reenters the flight chamber. The result: a smooth column of air that enables you to fly.
What is a wind tunnel?
Very simply, a wind tunnel is a machine that moves a lot of air. A vertical wind tunnel, which is what we use at iFLY, moves air in a vertical column at speeds high enough to keep a person safely floating.
Are there any flying tutorials?
Yes, there are. The IBA has some excellent video tutorials. The IBA is the association that trains and accredits our instructors.
—
The GGCC is active in providing business-to-business networking opportunities throughout the year: a collective voice in local, regional, and state legislative affairs, professional development opportunities and other services that enhance the business environment.
The GGCC is located at 910 Clopper Road, Suite 205N, Gaithersburg, MD. To learn more about the GGCC visit us at www.ggchamber.org.
Find us on Facebook at: http://www.facebook.com/pages/Gaithersburg-Germantown-Chamber-of-Commerce/64339954570. Or on Twitter at: @GGCCNEWS.