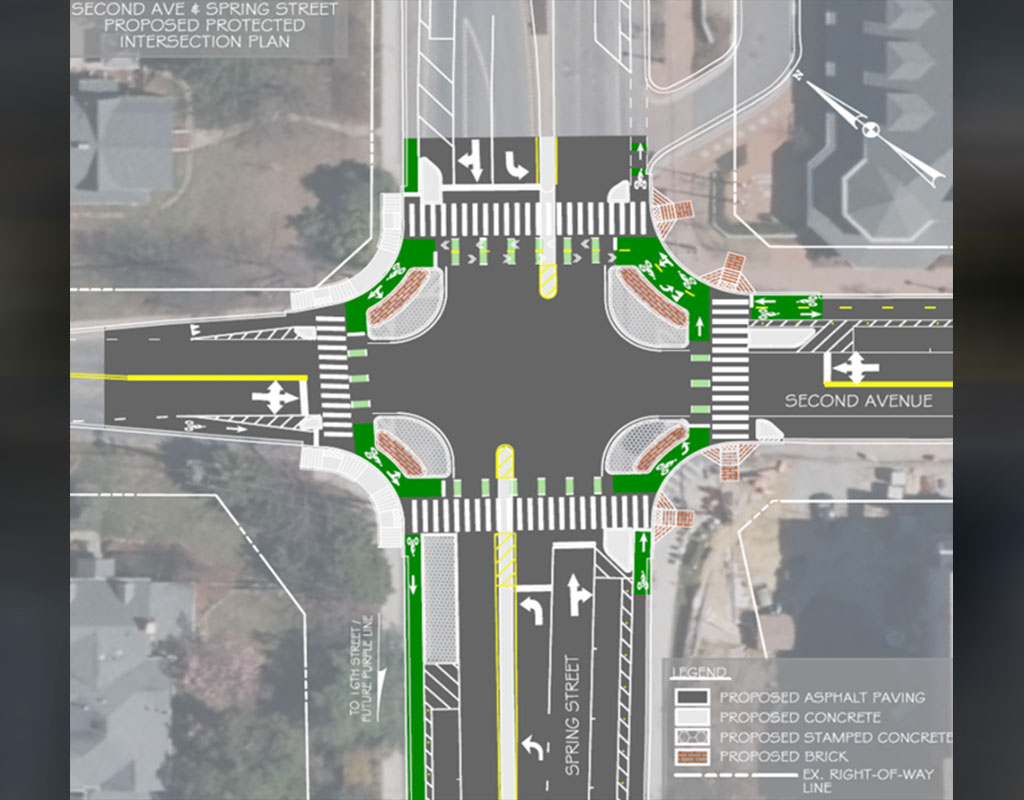 Downtown Silver Spring Gets First 'Protected Intersection' on East Coast
Downtown Silver Spring is getting the first-ever "protected intersection" on the East Coast.
According to Montgomery County's Division of Transportation Engineering (MCDTE), the intersection is under construction at Spring Street and Second Avenue.
MCDTE explained in a Twitter thread how the intersection creates a safer experience for pedestrians, cyclists, and commuters:
Thread:
You may have heard that Montgomery County is getting the first "protected intersection" on the east coast. But what is it? And how does it work?

We're glad you asked!

The intersection is under construction, and is at Spring St and Second Ave in downtown Silver Spring. pic.twitter.com/22UHiwVJct

— MC_DTE (@MoCo_DTE) August 1, 2019
3/
The protected intersection is specifically designed to maximize safety for cyclists & pedestrians. It has several elements that work together to meet that goal.

The first major element is the corner island. pic.twitter.com/sp7txL8b4h

— MC_DTE (@MoCo_DTE) August 1, 2019
5/
The third major element are the set-back crossings.

Now, let's go over how the three elements work together. pic.twitter.com/QClSUYTsYf

— MC_DTE (@MoCo_DTE) August 1, 2019
7/
The corner island also introduces a lateral shift for cyclists. This slows down cyclists traveling through the intersection.

The combination of drivers turning right slowly and cyclists entering the intersection more slowly increases reaction time and reduces crash severity. pic.twitter.com/aySnE3uOab

— MC_DTE (@MoCo_DTE) August 1, 2019
9/
The advanced stop line and lateral shift give drivers waiting to turn right better visibility of cyclists waiting at the intersection and approaching it.

Instead of looking over their shoulder or in their wing mirror, drivers can see cyclists through their passenger window. pic.twitter.com/eA7SFw0QS4

— MC_DTE (@MoCo_DTE) August 1, 2019
11/
The corner islands also reduce the exposure of both pedestrians and bicyclists crossing the intersection.

Without the islands, pedestrians face exposure to vehicles from curb-to-curb. With the islands, the crossing exposure is reduced by about 12' on each side. pic.twitter.com/eHuaZF69kM

— MC_DTE (@MoCo_DTE) August 1, 2019
13/13
We hope this thread has helped you understand our protected intersection.

Work continues. The next step is milling and paving, which will start on or about August 11.

We're working on additional materials to educate you and others about this new intersection design.

— MC_DTE (@MoCo_DTE) August 1, 2019
Montgomery County Councilmember Tom Hucker, who represents the Silver Spring District, spoke to MyMCMedia about the new protected intersection. Here's what he had to say:
MCDTE tweeted that milling and paving the intersection starts on Aug. 11.