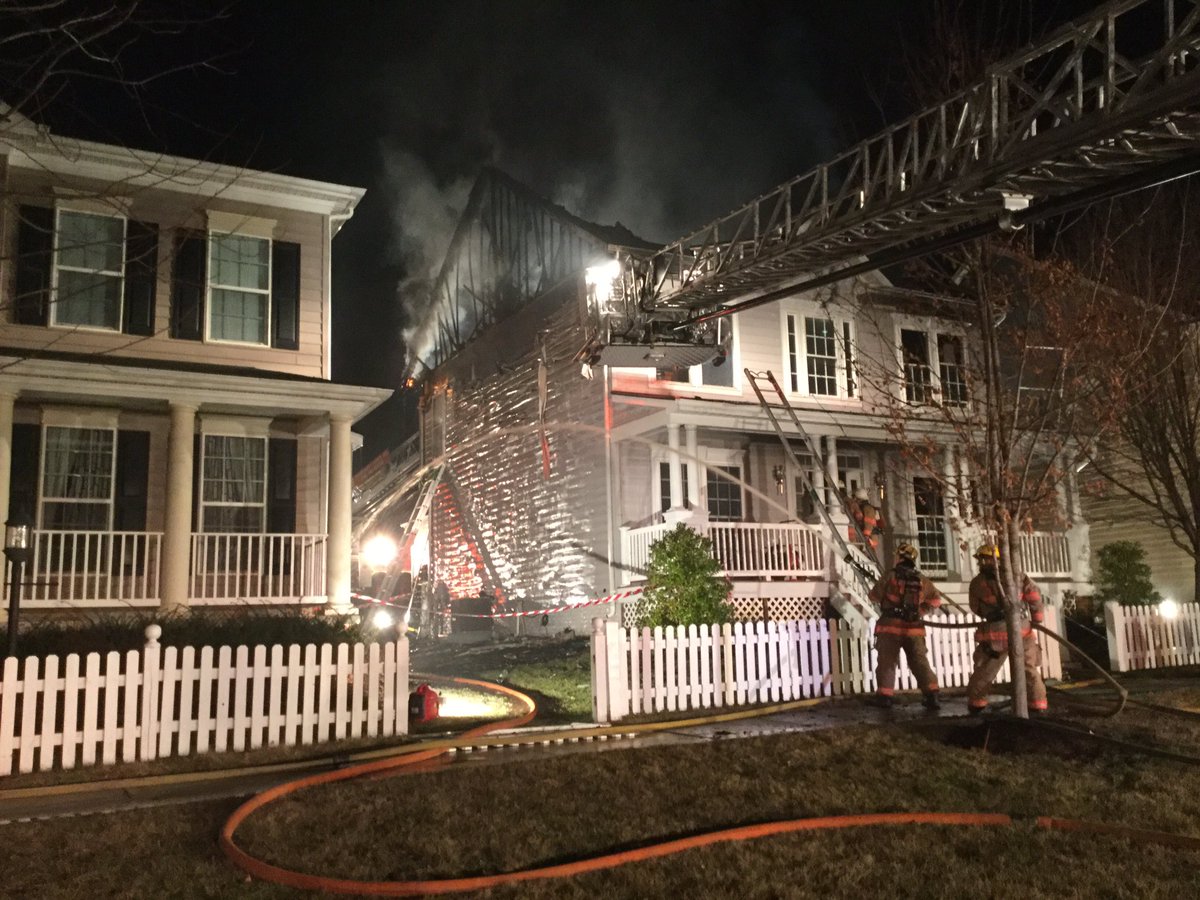 UPDATED: Dozens of Firefighters Battle House Fire in Clarksburg Overnight (PHOTOS)
UPDATED 2.19.17 11:55 a.m. About 75 Montgomery County firefighters battled a house fire in Clarksburg overnight, according to a Montgomery County fire official.
Fire and Rescue spokesperson Pete Piringer said the fire was reported in the 23100 block of Persimmon Ridge Road at 2:30 a.m. on Feb. 19.  A Montgomery County police officer, he said, helped make sure the house was evacuated before firefighters were at the scene.
According to Piringer, firefighters arrived to find heavy fire conditions at the house. Piringer said it took firefighters 15 to 20 minutes to knock down the bulk of the fire. He said there was some collateral damage to two adjacent homes.
There were no injuries, he said.  A family of four is displaced because of the fire, according to Piringer.
As for the origin of the blaze, Piringer said the fire was sparked on the deck from improperly discarded smoking material. Piringer said damages are estimated at $700,000.
There were some road closures in the neighborhood because of the fire department's activity. According to Piringer, firefighters were still on the scene Sunday morning.
Update – Persimmon Ridge Rd: Cause, improperly discarded smoking material; Area of origin, porch/deck; Damage ~$700K, incl 2 next door homes

— Pete Piringer (@mcfrsPIO) February 19, 2017
Persimmon Ridge Dr, Clarksburg, heavy fire upon arrival, fire under control, family of 4 got out & OK, ~75 FFs OS pic.twitter.com/NdRJ9j5DTt

— Pete Piringer (@mcfrsPIO) February 19, 2017
Persimmon Ridge Rd, Clarksburg, FFs protected neighboring homes & suppressed spread of fire, several nearby homes damaged (heat), no injury pic.twitter.com/c6CGoR5TZk

— Pete Piringer (@mcfrsPIO) February 19, 2017
Traffic Advisory – Skylark Rd, Clarksburg, some lanes blocked, Btwn Piedmont Rd & Sycamore Farm Dr, FD activity pic.twitter.com/1MXPfW0R4N

— Pete Piringer (@mcfrsPIO) February 19, 2017
Persimmon Ridge Rd, Clarksburg (230a), 1 family displaced, 2 neighboring homes damaged (heat damage), no injuries, fire out, ~75 FFs OS pic.twitter.com/Yfwm6dzbiR

— Pete Piringer (@mcfrsPIO) February 19, 2017
Update – Clarksburg, 1st arriving police officer insured family got out & alerted neighbors to fire, FFs arrived w/ heavy fire conditions pic.twitter.com/bNfoJP6p7c

— Pete Piringer (@mcfrsPIO) February 19, 2017