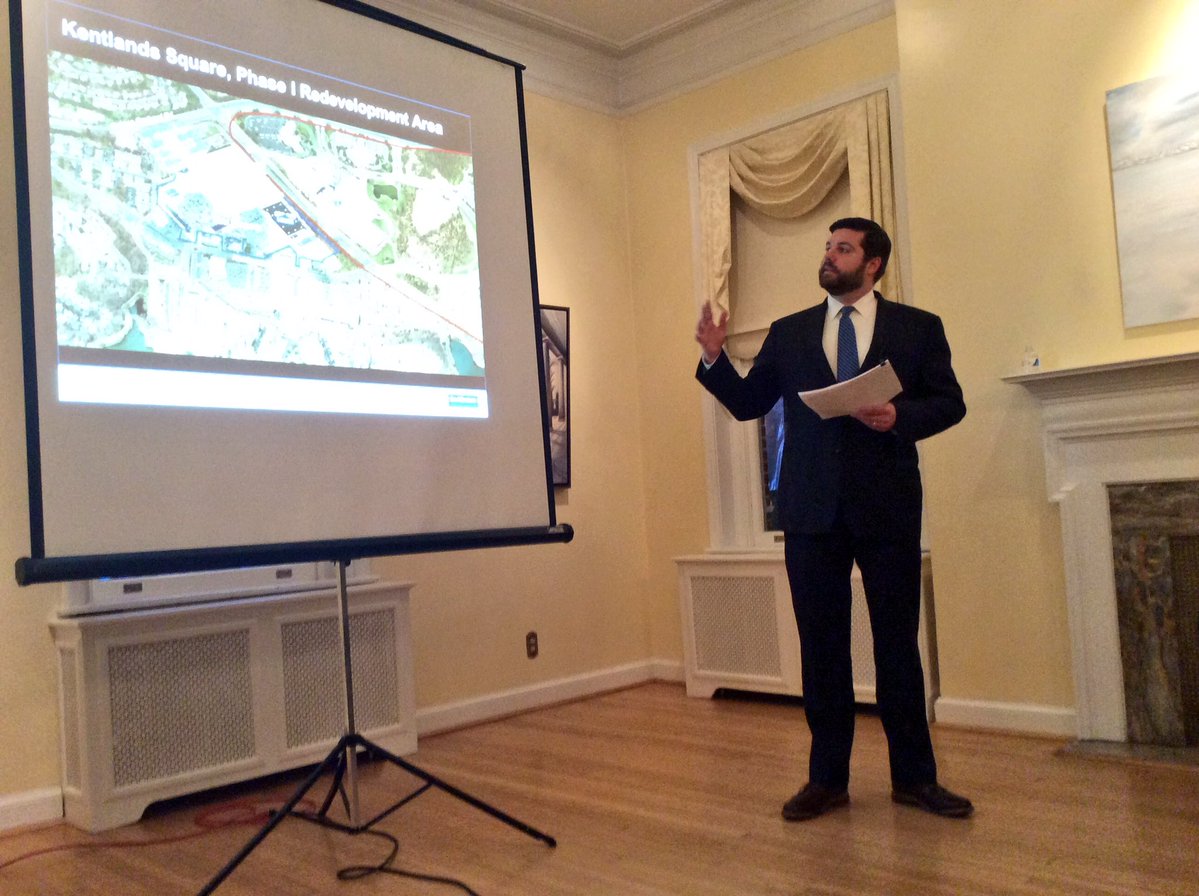 Dozens of Residents Attend Town Hall Meeting about Kentlands Sketch Plan (VIDEO)
The future of the Kentlands Square shopping center was the topic of a town hall meeting hosted by the Kentlands Community Foundation on Tuesday night at the Kentlands Mansion.
Dozens of Gaithersburg residents attended the meeting to hear from representatives of Saul Centers, the company that owns the shopping center that is anchored by a Giant Food store and a Kmart.
The developer has filed a new sketch plan application to redevelop a portion of the Kentlands Square shopping center, located at the corner of Great Seneca Highway and Quince Orchard Road across from the MedImmune campus. The sketch plan proposes up to 784,080 square feet of commercial uses and up to 1,450 residential multi-family units on about 12 acres. It proposes some buildings that are 12 stories high and incorporates the proximity of the proposed Corridor Cities Transitway (CCT) station in its block plans.
"Our model is a long-term hold," said Vince Burke, vice president of B.F. Saul Company, at the meeting. "We build projects that we are proud of, and that the neighborhood is excited to have."
"Our design is place first, it's community first," said design architect Brian O'Looney of Torti Gallas + Partners.
During the 90-minute meeting, developers answered questions from residents and touted how their plans enhance the Kentlands Boulevard Commercial District's master plan. At the end of the meeting, residents wanted to know how long it would take the developers to make the plan a reality.
Brian Downie, senior vice president for development at Saul Centers, said the sketch plan is a first step.
"We would like to do this as soon as we possibly can," Downie told residents.
Marilyn Balcombe, who is the president and CEO of the Gaithersburg-Germantown Chamber of Commerce, attended the meeting and liked what she learned.
"I think the the Saul plan fits in with the overall Master Plan for the area," said Balcombe after the meeting. "Additional residential units in Kentland Square will help invigorate the retail space throughout the Kentlands. Saul has a strong reputation for creating quality projects, so I'm assuming that the new development will match the quality already established in the Kentlands. This is the type of project that will do well in Gaithersburg. I'm excited about seeing it happen."
A public hearing on the Kentlands Square sketch plan is scheduled for Monday night at Gaithersburg City Hall.
You can find out more, here.
At the Kentlands Mansion for a town hall meeting about development plan for Kentlands Square in @GburgMD. @mymcmedia pic.twitter.com/9qqHFvM1JP

— Sonya Burke (@SonyaNBurke) March 28, 2017
B.F. Saul Company VP Vince Burke begins presentation about plan for redeveloping a portion of Kentlands Square shopping center. @mymcmedia pic.twitter.com/oR1VmgrWPE

— Sonya Burke (@SonyaNBurke) March 29, 2017
A rendition of proposed CCT station was shared during Kentlands Square redevelopment plan presentation. @mymcmedia pic.twitter.com/6GcAsZQsCf

— Sonya Burke (@SonyaNBurke) March 29, 2017