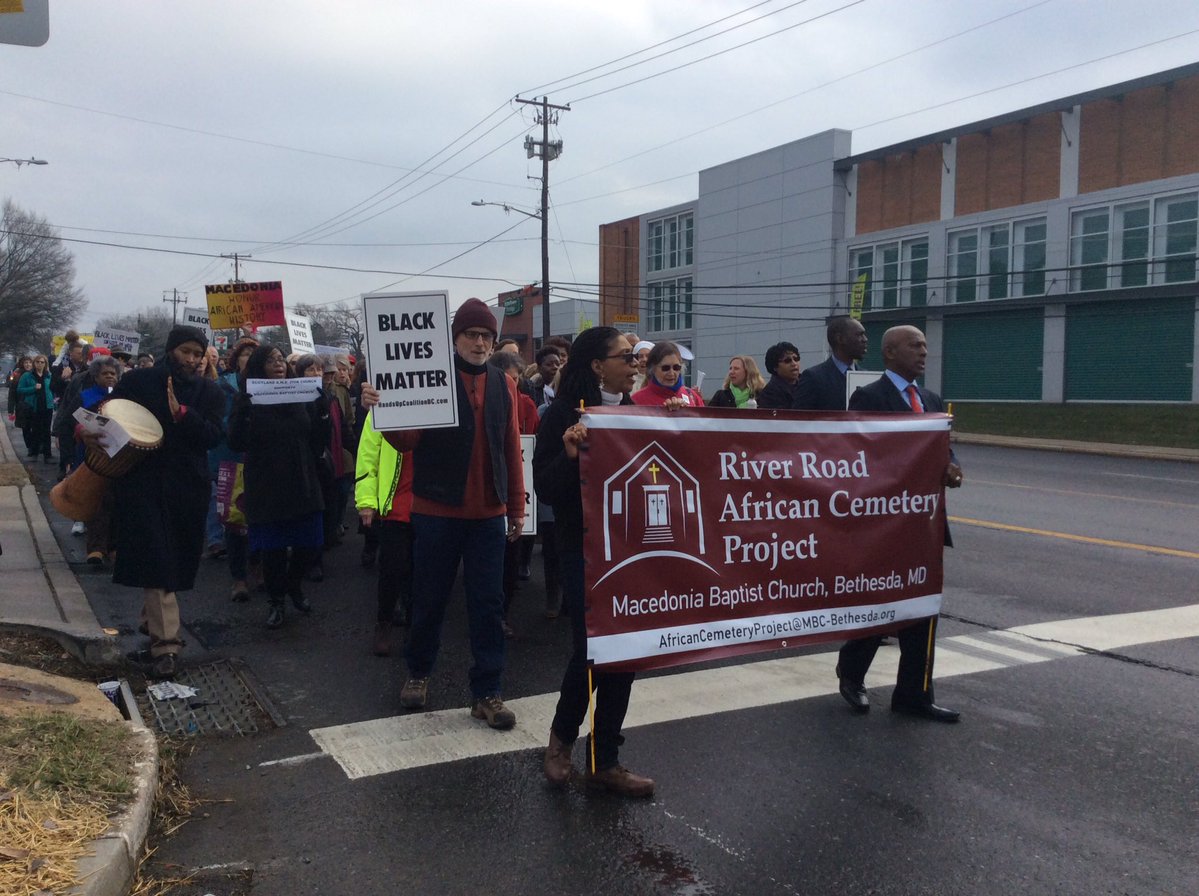 Dozens Rally at Macedonia Baptist Church About Historic Burial Site in Bethesda (VIDEO)
Montgomery County police officers stopped traffic on River Road in Bethesda on Sunday afternoon so dozens of protesters who gathered at Macedonia Baptist Church could march across the road to a property the demonstrators say is the site of a historic African-American burial ground.
The protesters carried signs that read, "Black Lives Matter," "Black History Matters," "Respect the Dead," "Rescue the Cemetery on Willet Branch Creek," "Respect MD Black History," and they chanted, "hey, hey, ho, ho, Equity One has got to go."
Macedonia Baptist Church members are asking the Montgomery County Planning Board to reschedule a Feb. 23 meeting on the Equity One sketch plan because they believe the property is a former African cemetery. They have written letters to county officials asking for a delay, and now they are circulating a petition. They plan to take their protest to the offices of the Planning Board in Silver Spring on Feb. 16, and they say they will rally again next Sunday at their Bethesda church.
"We are sending out a call for help because this small little church is under attack," said Marsha Coleman-Adebayo. She said there are plans to build a parking garage on the African burial ground that she believes contains the church's ancestors. "This little church on the hill says no," she said. "We have said no. No to Equity One."
On Sunday, she urged demonstrators to look up and down River Road from where they stood at the church on the hill.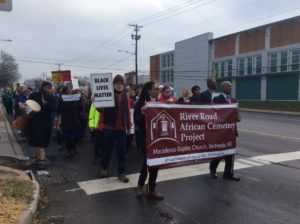 "Look to your right and look to your left, as far as the eyes can see. This section of Bethesda was a vibrant African community," said Coleman-Adebayo. "This church which proudly sits on the hill is the only remaining symbol of the African community that contributed so much to Montgomery County and this country."
According to Coleman-Adebayo, the former cemetery was paved over as a parking lot at a site that houses a Housing Opportunities Commission (HOC) building.
Harvey Matthews, who now lives in Washington, D.C., is a member of the Macedonia Baptist Church and he grew up in the River Road community that surrounds it.
"It is a shameful thing that none of this history is here," he said.
Gwen Wright is the director of the Planning Department and she released a statement addressing some of the church's concerns last week.  "The Montgomery County Planning Department shares community concerns about the possible presence of a historic African-American cemetery in Westbard," she said. "We have approached this issue with utmost sensitivity to the possible presence of burial sites and will continue to do so."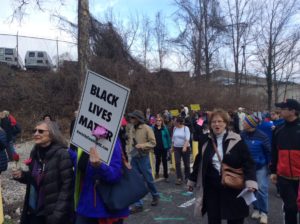 A representative from Equity One told MyMCMedia last week that the company is planning to contract with a company to conduct ground radar studies at the possible burial site.
Other speakers at the Sunday protest included: Dr. Margaret Flowers, Rev. Segun Adebayo, the interim pastor of the Macedonia Baptist Church, Julian Haffner, an attorney representing the Montgomery County NAACP, Somerset Mayor Jeffrey Slavin, the Rev. Nancy McDonald Ladd of River Road Unitarian Universalist Congregation and Luci Murphy, who led the protesters in song and chants.
For more information about the River Road African Cemetery Project, email Coleman-Adebayo at nofearcoalition@aol.com.
Info passed out at today's protest at Macedonia Baptist Church about historic burial grounds in Bethesda. @mymcmedia pic.twitter.com/3VK7JOFszw

— Sonya Burke (@SonyaNBurke) February 12, 2017
One of the chants about "people power" at today's demonstration about an old burial ground near a Bethesda church. @mymcmedia pic.twitter.com/L2TpKBdoTk

— Sonya Burke (@SonyaNBurke) February 12, 2017
Demonstrators sing while gathering at Macedonia Baptist for protest about development they say threatens an old burial ground in Bethesda. pic.twitter.com/5p523tNGjX

— Sonya Burke (@SonyaNBurke) February 12, 2017
PREVIOUS POSTS
Equity One to Contract Ground Radar Studies for Cemetery Site
Berliner Asks Planning Board to Ensure Westbard Action Doesn't Prejudice Cemetery