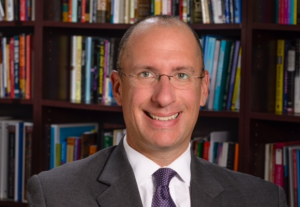 Dr. Starr Has a New Job as CEO of PDK
Dr. Joshua Starr, the former superintendent of Montgomery County Public Schools, has landed a new job.
Starr, 45, has been named the chief executive officer (CEO) for PDK International as of June 8th. He replaces William Bushaw who served as PDK's CEO for 11 years.
"I'm thrilled to be joining PDK International at this critical moment in the organization's distinguished history," Starr said in a news release posted on the company's website. "As PDK International is reimagining its role, I'm excited to leverage its resources, expertise, and energy to ensure that policy conversations are focused on teaching and learning and on advocating for what we know works in public education. Our focus should always be on what the children in our classrooms need to reach standards that are very different from the expectations of the past. PDK is uniquely positioned to lead that conversation in this country."
Starr, a father of three who attend public schools in Montgomery County, began his career as a teacher in Brooklyn working with adolescents with several emotional disabilities. According to his bio, he later served as director of accountability for the New York City public schools and as superintendent of the Stamford, Conn., schools. Dr. Starr has a doctorate in education from the Harvard University Graduate School of Education, a master's degree in special education from Brooklyn College, and a bachelor's degree in English and history from the University of Wisconsin.
Dr. Starr was hired by PDK after a nationwide search that began last year.
"Moving into the future will require a leader who can foster an organizational culture that is innovative, nimble, and entrepreneurial. We believe we have found that person in Joshua Starr," said Patricia Williams, chair of the PDK Board of Directors.
Douglas Christensen, vice chair of the PDK Board of Directors and chair of the CEO search committee agreed. "We're delighted to have Josh Starr's experience, expertise, and leadership as we work to increase PDK's presence in education conversations about policy and practice at all levels — local, state, and national. His values-based disposition and passion for education are consistent with our core values and priorities. We're excited to have Josh Starr as the CEO who will lead this new journey."
Outgoing CEO Bushaw said, "Josh will have the opportunity to work with two outstanding boards and an excellent staff of professionals, all of whom are fully committed to doing whatever is necessary to maintain the high standards of the past and launch new initiatives for the future."
Founded in 1906, PDK International touts its organization as the premier professional association for educators. PDK International is a family of associations, which includes Educators Rising (launching in August 2015 as an evolution of the Future Educators Association), Pi Lambda Theta, and Phi Delta Kappa International. The organization's executive offices are in Arlington, Va., and its member services office is in Bloomington, Ind.
I'm thrilled to announce that as of 6/8, I'll be the new CEO of @pdkintl http://t.co/37eTXZiXfl Stay tuned for more!

— Joshua Starr (@JoshuaPStarr) May 19, 2015