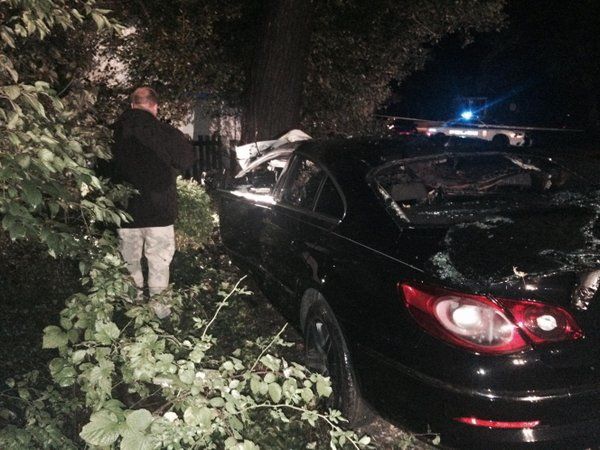 Driver Killed in Fiery Crash in Silver Spring (PHOTOS)
UPDATED A 21-year-old Takoma Park man was killed in a fiery crash overnight in Silver Spring.
MCFRS Spokesperson Pete Piringer said the crash happened at Gist Avenue and Ray Drive around midnight.
On his Twitter account, Piringer said the vehicle crashed into a tree and caught on fire. According to Piringer, the driver was pinned in the vehicle and trapped. Piringer said the driver died at the scene.
Overnight, several streets adjacent to where the crash occurred were closed while the Montgomery County Police Department's Collision Reconstruction Unit investigated.
According to police, the preliminary investigation indicates that a 2012 Volkswagen Passat was traveling south on Gist Avenue. In the area of Ray Drive, for reasons still under investigation, police said the car left the roadway and struck a tree. Police said the vehicle then caught on fire.
Police have identified the driver as Mohammed Shafiq Khan of Takoma Park.
The collision remains under investigation. Anyone with information regarding this collision is asked to contact the Collision Reconstruction Unit at 240.773.6620.
Detectives are investigating a single-vehicle fatal collision that occurred just after midnight in Silver Spring: https://t.co/XtXo8FArJd

— Montgomery Co Police (@mcpnews) October 21, 2015
More – Gist Av, PD Collision Reconstruction Unit & MCFRS Fire Investigators on scene, several local streets closed pic.twitter.com/dGFewBu2kp

— Pete Piringer (@mcfrsPIO) October 21, 2015
ICYMI (mid nite) Gist Av & Ray Dr, car vs tree, vehicle fire, tree/brush fire, driver pinned/trapped, pronounced DOA pic.twitter.com/ThbtVYdGXe — Pete Piringer (@mcfrsPIO) October 21, 2015
Gist Av & Ray Dr, SS, single vehicle into tree, car caught fire, driver was trapped, DOA, no transport, road closed pic.twitter.com/uQQyrILZ9D

— Pete Piringer (@mcfrsPIO) October 21, 2015
(Midnite) Takoma Av/Ray Dr & Gist Av, Silver Spring, collision, vehicle into tree, vehicle fire, occupant succumbed to injuries, DOA — Pete Piringer (@mcfrsPIO) October 21, 2015