Drivers Urged to Use Caution on Wet Roads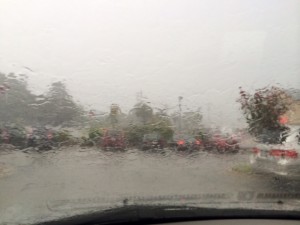 State highway officials are advising Maryland drivers to take it easy when driving in the rain this week.
"Drivers need to be extremely cautious during heavy rains. From reduced visibility, potential hydroplaning, and flooded roadways, driving conditions will not be ideal and we all need to adjust for safety," said SHA Administrator Gregory Johnson. "Do not try to drive through high water or flooded roadways. It does not take much water to lose control of your vehicle and endanger yourself and others."
In case of power outages, motorists are reminded to treat dark signals as a four-way stop.  Also don't forget that Maryland law requires that when windshield wipers are in operation, low-beam headlights must be on.
SHA also advises motorists to stay aware of the forecast and, should heavy rain and high wind begin to affect the area, curtail travel as much as possible.
You can find more information about flooded roads on the state's website, here.
Montgomery County is activating its Storm Operations Center at 4 p.m. today.
For real-time travel information, SHA invites motorists to log onto www.md511.org or call 5-1-1 from a hands-free mobile device.
Storm Operations Center will activate today at 4 PM. Crews will respond as needed to any storm concerns @MoCoCouncilMD @mymcmedia @mcfrs

— MC Highway Services (@MontCo_Highways) September 28, 2016
We're monitoring the incoming storm carefully and conducting normal operations. Crews have been prepped and equipment has been mobilized.

— MC Highway Services (@MontCo_Highways) September 28, 2016
News release: State Highway Maintenance Crews Prepare For Significant Rainfall https://t.co/MUMDYPqZWW #mdotnews

— MD State Highway Adm (@MDSHA) September 28, 2016