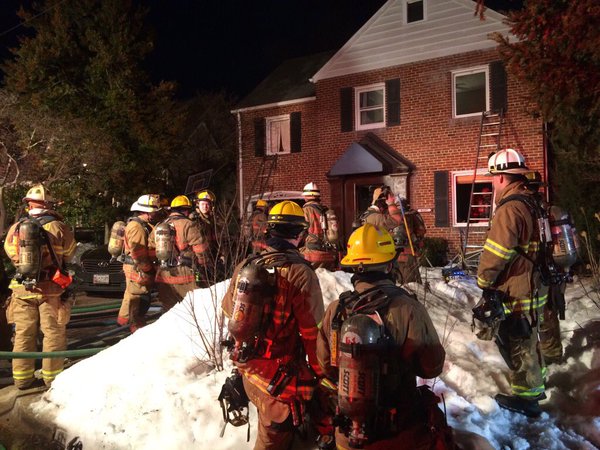 Dryer Fire Displaces Family from Silver Spring House (PHOTOS)
Montgomery County firefighters say an overheated dryer is responsible for a fire that caused an estimated $135,000 in damages at a Silver Spring house on Sunday night.
It happened at 9507 Biltmore Drive, according to Fire and Rescue Spokesperson Pete Piringer.
Smoke alarms alerted the family of the laundry room blaze that occurred in the basement. One person was transported to the hospital with non life threatening injuries, Piringer said. The family is displaced from their home because of the fire damage, he added.
According to Piringer, firefighters have responded to several fires involving clothes dryers recently in Montgomery County. He posted some fire safety tips on his Twitter account and noted it is important to clean the lint in and around your dryer regularly.
(545p) 9507 Biltmore Dr, 2-sty house, fire in laundry rm w/ extension, fire is out, EMS transporting 1 adult, NLT pic.twitter.com/9VeC0KEQM8

— Pete Piringer (@mcfrsPIO) January 31, 2016
ICYMI 1/31 Biltmore Dr; Cause, accidental, overheat dryer; bsmt laundry rm; Damage, >$135K; 1 civ inj 1 fam displcd pic.twitter.com/ySGLtkEPch

— Pete Piringer (@mcfrsPIO) February 1, 2016
Dryer Fires! Recently, #MCFRS has responded to several fires involving clothes dryers. Learn a few prevent TIPS: https://t.co/7IoSDRjONe

— Pete Piringer (@mcfrsPIO) February 1, 2016
Biltmore Dr, Silver Spring, smoke alarm alerted residents & automatic/monitored alarm initiated FD response pic.twitter.com/ko74QqlbC3

— Pete Piringer (@mcfrsPIO) January 31, 2016
9507 Biltmore Dr; Cause, accidental, overheat dryer; Area of origin, bsmt laundry rm; Damage, >$35K; family displcd pic.twitter.com/ySGLtkEPch

— Pete Piringer (@mcfrsPIO) January 31, 2016