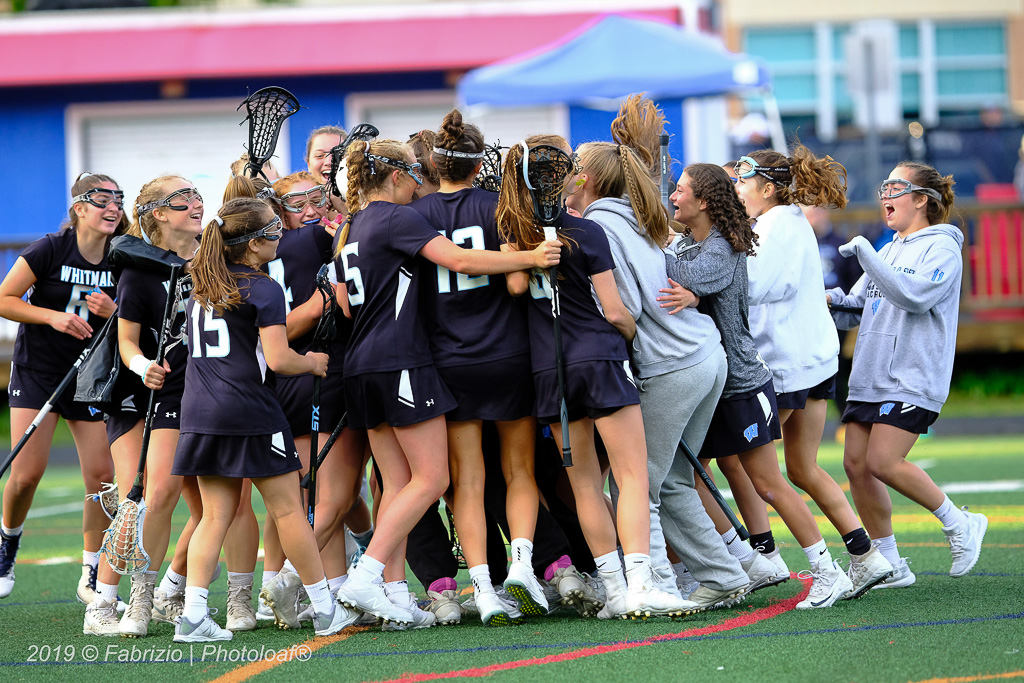 Dubick Leads Churchill Boys, Whitman Girls Prevail in Lacrosse Playoffs
Rockville, MD, Wootton High School, May 13, 2019
Winston Churchill had both the girls and boys varsity lacrosse teams reach the third round of the MPSSAA Regional playoffs.  Whitman girls had something to say about who would advance to Regionals beating Churchill 12 to 11.  There was no stopping Churchill boys as they marched past Bethesda Chevy-Chase 16 to 3 to reach the Regionals.
I caught the second half of the girls game as I awaited the start of the boys lacrosse matchup.  Whitman showed a lot of grit and determination on Wootton High School's turf field.  They faced a determined Bulldog girls team who seem to waste too much time behind the goal at the end of the game.  Failing to find a passing lane the Bulldogs turned over the ball and the opportunity to tie the game as Whitman controlled the last 50 seconds.
Bethesda Chevy-Chase boys lacrosse showed little of the spark that got them past Whitman last Friday.  Perhaps that was due to the excellent play by the Churchill attackmen.  Eliot Dubick, found the net four times and assisted with two more scores to lead the Bulldogs past the Vikings.  Dubick controlled the attack around the crease finding passing lanes for teammates.
Wednesday, May 15th the MPSSAA Regionals meet at Gaithersburg High School where we will find three Montgomery County lacrosse programs.   Richard Montgomery's girls and boys, Sherwood's girls and Churchill's boys teams will convene at John Harvill Stadium Wednesday evening.  Best of luck to all.
Group photos to follow.
All images copyrighted 2019 © Phil Fabrizio | Photoloaf®  for MCM