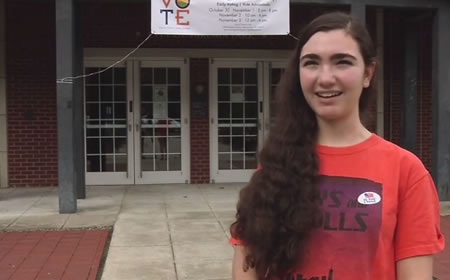 Early Voting in Takoma Park (Video)
Takoma Park city officials have released early voting numbers for the city's municipal election. Over the five days of early voting, 226 voters cast their ballot. As of the close of early voting, the city had received 43 absentee ballots. According to the city, numerous 16 and 17-year-olds have cast their ballots during early voting.
On Nov. 1,  Alanna Natanson became the first 16-year-old to vote in the city elections. Takoma Park City TV was there to capture her thoughts.
Here is the video:
The elections for Mayor and Council will be held Nov. 5 from 7 a.m. to 8 p.m. at the Takoma Park Community Center, 7500 Maple Avenue. All seats are running unopposed. Eric Mendoza had been challenging incumbent council member Terry J. Seamens for the Ward 4 council seat but withdrew his name. Also, Ward 1 resident Elizabeth Forbes Wallace registered Nov. 1 as a write-in candidate for Mayor.
Takoma Park encourages all residents to vote. Same-day/on-site registration is available during voting hours.
Complete election information, including sample ballots, is available on the Takoma Park 2013 election page.