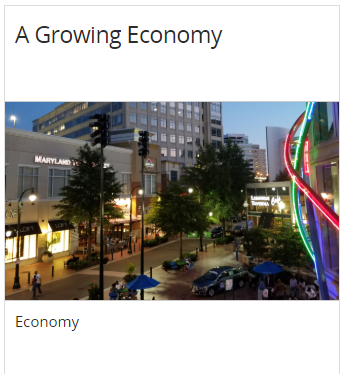 Economy Top Issue Among Residents in Transition Team Poll
A growing economy was cited by 21.5 percent of residents as the most important issue facing Montgomery County, the Elrich administration revealed in a website graphic.
The economy was the top issue of seven areas polled, which represented the seven areas a 222-member transition team examined. The other areas were:
Thriving Youth and Families;
A Greener County;
Easier Commutes;
A More Affordable and Welcoming County;
Safe Neighborhoods; and
Effective, Sustainable Government.
Each of the seven issues included data and suggestions for the new county executive.
The most frequently recommended measure was support for small businesses and entrepreneurs, according to information published on CountyStat, a website devoted to measuring the county's performance against specific measures.
Respondents suggested business incubators, and there was widespread acknowledgment of the value of small businesses to the county, the website says.
The portion of the transition team — which had about 45 members — that examined Montgomery County's economy presented a zigzag chart with the growth of new businesses peaking at 374 in 2014 and a low of 47 in 2015. In 2016, the latest data presented, new businesses totaled 261.
The team found the county's well-educated workforce, its infrastructure and immigrant population as positive factors in the county's economy.
The cost of doing business, difficulties in working with county government and minority access to capital as negative factors.
According to unsourced data presented by the team, the county has about 240,000 jobs each in high-income and low-income levels. High-income is more than 125 percent of the median income, or nearly $52,000. Low-income is less than 75 percent of the median income.
The mid level, between 75 percent and 125 percent of median income, has about 88,000 jobs.
One of the reasons for such a disparity, the report says, is the disconnect between economic development and poverty alleviation.
The report suggests the creation of a senior position that focuses the intersection between poverty alleviation and economic development.