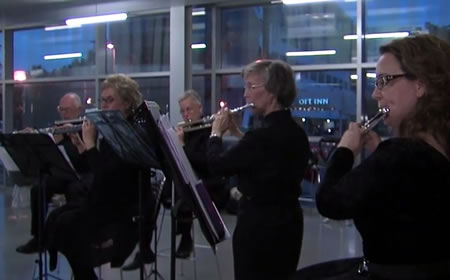 Eight Given Prestigious County Executive Awards for Excellence in Arts and Humanities (VIDEO)
The Arts and Humanities Council of Montgomery County announced the eight winners of the 2014 County Executive's Awards for Excellence in the Arts and Humanities.

Among this year's eight recipients of the County Executive's Awards for Excellence in the Arts and Humanities is Lifetime Impact Award winner Bonnie Fogel, Founder and Executive Director of Bethesda's Imagination Stage. The 2014 Lifetime Achievement award will be posthumously awarded to Richard Jaeggi, founder of the youth media nonprofit organization Gandhi Brigade,
who passed away this past May.
"Montgomery County is a cultural destination due in large part to the dedicated efforts and leadership of this year's honorees," said County Executive Ike Leggett.
Established in 2002, these awards honor community leaders whose work in the cultural sector has made an impact in Montgomery County communities.
Leggett and First Lady Catherine Leggett presented these awards during a special ceremony that included performances by the Washington Conservatory of Music, Adventure Theatre MTC, New Orchestra of Washington, Jazz Academy, and others.
Special guests include local elected officials, Maryland State legislators, and members of the Montgomery County Council.
"This year, we are extremely pleased to salute this stellar group of community leaders with an exciting night of entertainment and a convening of our grantees and others that are helping move the arts and humanities forward in Montgomery County," says Suzan Jenkins, CEO of the Arts and Humanities Council of Montgomery County.
The 2014 Award Recipients:
Lifetime Achievement Award: Richard Jaeggi, Gandhi Brigade*
Lifetime Impact Award: Bonnie Fogel, Imagination Stage
Patron Award: Kenny O'Brien, Music and Arts
Community Award: Ricardo Loaiza, After School Dance Fund, Inc.
Education Award: Adrienne Clancy, ClancyWorks Dance Company
Emerging Leader Award: Paula Ross, Metropolitan Ballet Theatre & Academy
Outstanding Artist or Scholar Award: Carien Quiroga, Visual Artist & Arts Educator
Volunteer Award: Jeff Struewing, Lumina Studio Theatre
For more information about Montgomery County Arts and Humanities visit www.montgomerytraditions.org, www.creativemoco.com, www.culturespotMC.com.