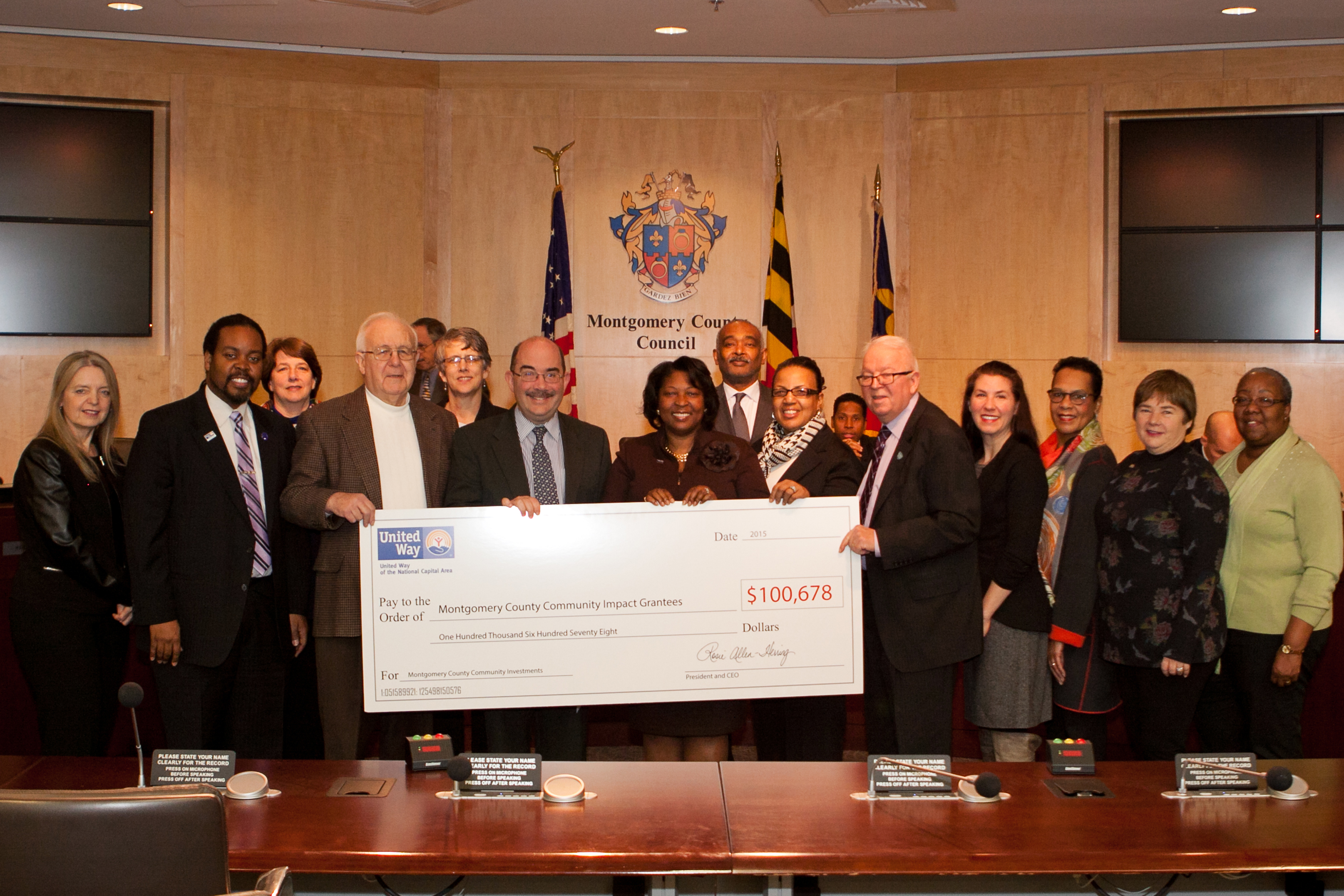 Eight Local Nonprofits Awarded United Way Grants (PHOTOS)
United Way of the National Capital Area (United Way NCA) is awarding eight Community Impact grants totaling $100,678 to eight nonprofit member organizations serving Montgomery County. Each of the grants directly addresses United Way NCA's focus areas of education, health and financial stability. This year United Way NCA is awarding over $1 million in Community Impact grants to member nonprofits serving the National Capital Area thanks to the support of employees participating in 800 workplace giving campaigns at more than 3,000 locations throughout the greater Washington region.
The eight grantees were honored at a brief ceremony today with Montgomery County officials. The Montgomery County grantees are:
Catholic Charities of the Archdiocese of Washington
Community Ministries of Rockville, Inc.
Gaithersburg HELP, Inc.
Manna Food Center, Inc.
The Reading Connection, Inc.
Spanish Catholic Center, Inc.
The George B. Thomas Sr. Learning Academy, Inc.
WUMCO Help, Inc.
One of the Montgomery County recipients, Manna Food Center, will use its Community Impact grant to provide healthy foods for weekend meals to more than 2,320 elementary school children each week. "United Way is a great partner of Manna Food Center and our work to end hunger in Montgomery County," said Manna Food Center Director of Development and Communications Mark Foraker. "Support from workplace giving campaigns and Community Impact grants help us keep up with continued increases in need and provide program enhancements such as ensuring we can consistently offer healthy food to the children we serve."
All donors to United Way NCA have the option of directing their workplace giving pledge to the Community Impact Fund for any of United Way NCA's eight regions: Alexandria, Arlington, District of Columbia, Fairfax/Falls Church, Loudoun, Montgomery, Prince George's and Prince William counties. These funds help United Way NCA solve critical challenges facing these communities that no one person, nonprofit, or company can address alone. Across the National Capital Area this year, United Way NCA is awarding a total of 77 Community Impact grants to 65 nonprofit member organizations.
Every year, United Way NCA solicits Community Impact funding proposals from its member nonprofit organizations for specific programs and work in United Way NCA's focus areas of education, financial stability and health. The funding decision process includes recommendations from regional volunteer, citizen-led task forces working with United Way NCA's Regional Councils, as well as area nonprofits, governments, and business leaders, to determine where there are gaps in services and where the funds will do the most good.
"United Way NCA's Community Impact grant process helps us rally and focus the nonprofit community around shared goals and outcomes by combining the power of local giving, local knowledge and collective action to create maximum impact as we address the most pressing needs in each of our eight regions," said Rosie Allen-Herring, President and CEO, United Way NCA. "Today we honor the generosity of Montgomery County employees and employers, the time and care taken by the volunteer selection committee and the Montgomery County Regional Council, and the vital work of the grantee organizations."