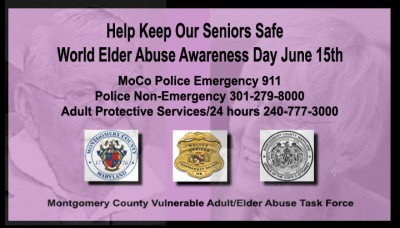 Elder Abuse Awareness Day-June 15
June 15 is Elder Abuse Awareness day, and each year the annual event is held around that date. This year event was held  on June 11,2014  at 2 senior centers in Montgomery County. This years main focus is on Senior Safety. The Rockville Senior Center hosted the event in the morning, and Holiday Park Senior Center in Wheaton hosted the afternoon shift. To put on this important  event involves a lot of people and organizations, such as Health and Human Services, Adult Protective Services, Ombudsman and many others working together.  The turnout was good this year with many of the movers and shakers from the county attending. Lucille Baur from the police, County Executive Ike Leggett, Doug Duncan, Phil Andrews and many others paid visits and some gave presentations.  Montgomery Community Media had a table in both locations as well.  Mandi, from the  Training dept. brought her grandmother, and they sat at a booth in the Rockville location, and Larry was at the Wheaton location manning a booth, in the afternoon.
It was a good day for the event and the coordinators of the event were pleased with the way it went and were happy to see the visits from the county Executive and the others who came by.