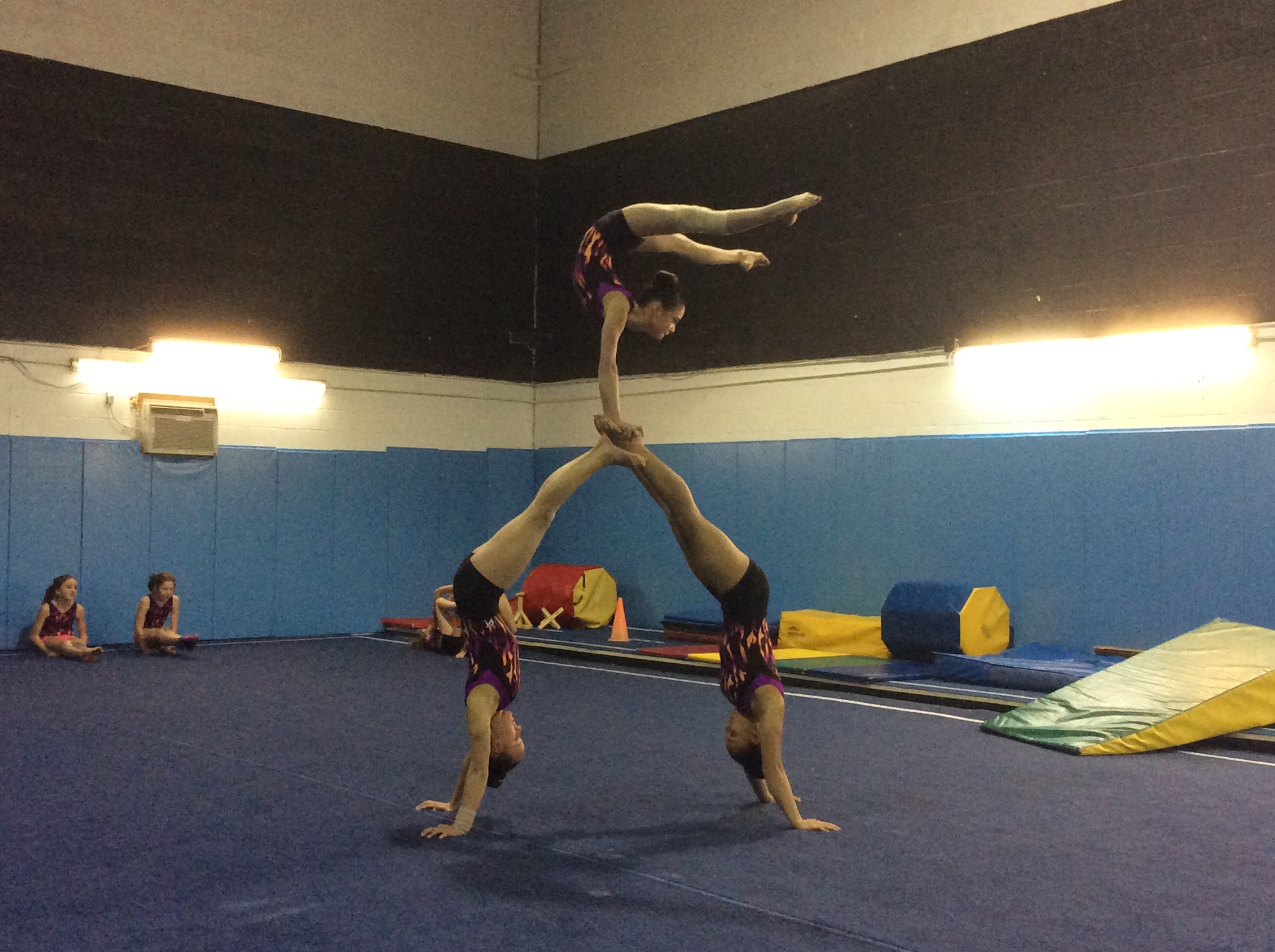 UPDATED: Elite Acro Gymnastics Trio Will Compete at World's Next Spring (PHOTOS & VIDEO)
UPDATED: 12.21.15 7:31 p.m.  It's official: the USA Gymnastics has selected Sophia Handel, Cameron Jones and Sara Mercer to compete at the World Acrobatic Championships in China next spring. The news was posted on the USA Gymnastics website on Dec. 21.
ORIGINAL POST They practice five days a week, three hours a day. Their goal – to make it the World Acro Gymnastics Championships in China.
The powerhouse trio of Sara Mercer, 12 of Darnestown, Cameron Jones, 16 of Potomac and Sophia Handel, 16 of Crownsville are elite acro gymnasts doing elements in a routine that are reminiscent of a Cirque du Soleil act. This USA Gymnastics-sanctioned sport is not as well-known as traditional gymnastics but combines elements of tumbling, dance, ice skating and gymnastics in a floor routine.
The three girls are coached by Juli Eicher at Xtreme Acro & Cheer in Rockville. As a duo, Cameron and Sara notched an 11th place finish in the World Acro Gymnastics Championship in Paris, France last year. Sophia, with another partner also competing in Worlds that year. Now the three are working as a team to return to the world stage. They also said they want get more people familiar with this sport that combines balance, strength and timing.
While Acro Gymnastics is not an Olympic sport, its popularity is growing. Eicher said her gym had a team of just eight but now has a team of more than 50.
The Montgomery County trio is also working with two-time Acro Gymnastics world champion Arthur Davis who has been helping top teams in the nation with choreography. He was also the director and choreographer for Acro Army, an Acro Gymnastics team that placed third on the popular TV show, "America's Got Talent."
"I think these girls have a good chance of going to Worlds…these girls are quite something," Davis said.
You can catch this team at one of their local competitions Feb. 22 at Skyview Gymnastics in Mount Airy.