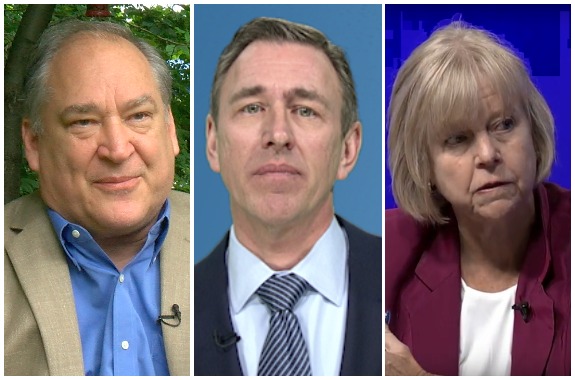 UPDATE: State Accepts Floreen's Independent Candidacy; Elrich Defeats Blair
Update, 5:20 p.m.: A Maryland State Board of Elections said Monday the board would conditionally accept Councilmember Nancy Floreen's independent candidacy for county executive.
She must change her party registration from Democrat to "unaffiliated" by Aug. 6, and she must submit about 7,000 signatures from Montgomery County registered voters supporting her appearance on the ballot, said Jared DeMarinis, director of candidacy and campaign finance for the state board.
The county board will verify all the signatures, DeMarinis said. The 7,000 figure represents 1 percent of the registered voters in the county.
Each signature must be a registered voter in Montgomery County, he said.
Once the signatures are verified, Floreen will be a candidate on the November ballot.
Floreen filed a declaration of her independent candidacy on July 2. She had endorsed former Rockville mayor Rose Krasnow in the Democratic primary for county executive.
Original post: Councilmember Marc Elrich said he expected to be certified as the Democratic nominee for county executive next week, in a statement posted on his website.
The Montgomery County Board of Elections unofficial results put Elrich ahead of health care executive David Blair by 80 votes — 37,529 to 37,449.
Meanwhile, Councilmember Nancy Floreen said she would announce whether she will go ahead with a plan to run as an independent in the race.
"Soon, we'll need to turn our attention to the general election — we cannot take anything for granted," Elrich wrote on his website. "We'll also begin to hone our plans for how to hit the ground running in 2019 with pre-K expansion, restructuring the government, and an equitable economic development strategy."
Blair released the following statement:
With almost 130,000 votes cast, the margin of 80 votes is razor-thin, and David Blair has been gaining ground as the votes have been counted. There is more work to do in this process- we still need to understand fully the scope and effect of the MVA's untimely updating of key voter registration data. We are committed to seeing that the most credible possible outcome is finally reached. Our supporters and all Montgomery county residents deserve nothing less.
Spokeswoman Laura Evans Manatos said discussions were going on today on whether to seek a recount.
The outcome of the Democratic primary has been in doubt since the June 26 primary, with only a handful of votes separating Elrich and Blair. Blair largely self-funded his campaign, spending at least $2.6 million. Elrich used the public election fund, receiving more than $700,000. He also benefited from the Progressive Maryland Liberation Alliance PAC, a so-called super PAC funded in part by the daughter of a California billionaire. The super PAC paid the printing costs of anti-Blair leaflets distributed by Progressive Maryland, a nonprofit that supports progressive causes.