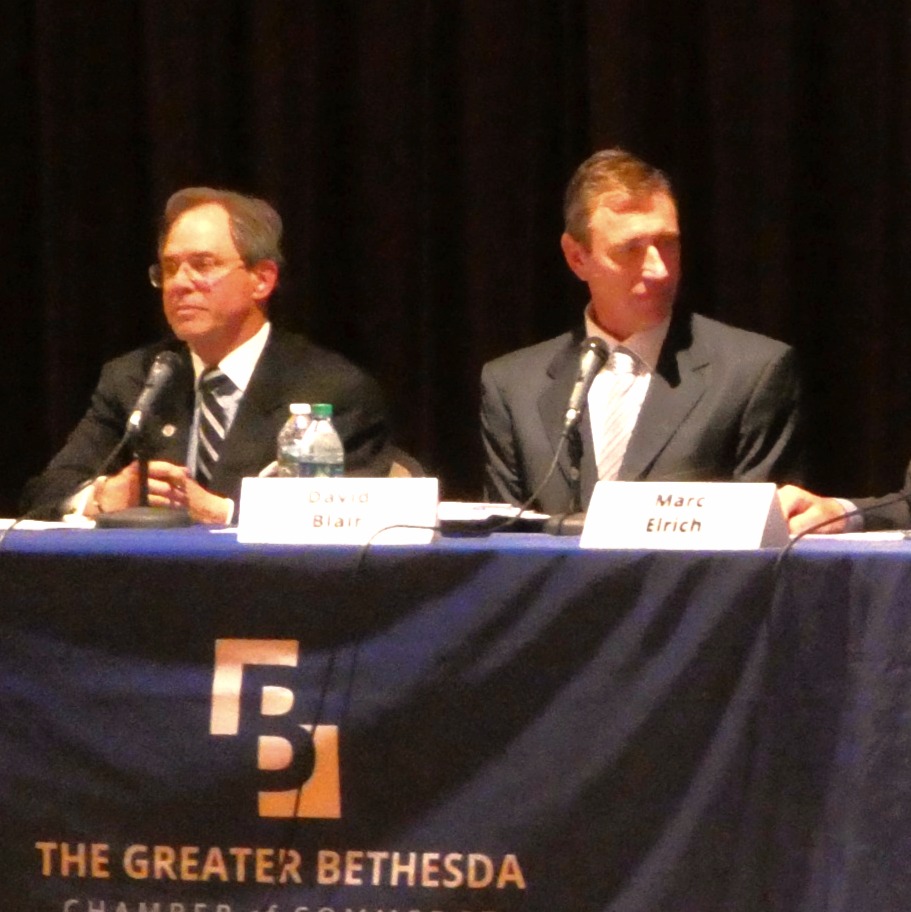 Elrich Draws Flak Over 'Ethnic Cleansing' Comment
County Councilmember Marc Elrich was taken to task Wednesday for his choice of words — "ethnic cleansing" — to describe how the 16-mile Purple Line would displace neighborhoods along its route.
"Words matter. To equate potential gentrification with ethnic cleansing is offensive. Period," County Council President Roger Berliner said.
Elrich and Berliner were among the six Democrats who want to be Montgomery County's next county executive on a stage at the National 4-H Conference Center in Chevy Chase. They took part in a forum hosted by the Greater Bethesda Chamber of Commerce and the Bethesda Beat website.
At a forum Monday, Elrich expressed his support for rent stabilization. Without it, he said, people who live in the neighborhoods along the Purple Line would lose their homes.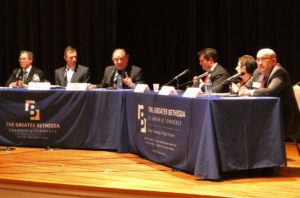 "[I]f you did not put rent stabilization around the Purple Line stops, for example, then the neighborhoods around the Purple Line will not continue to exist," Elrich said at a forum held by Progressive Neighbors.
Elrich said the council's own Park and Planning department wanted to rezone housing in the Long Branch master plan.
"I accused the Planning Board of ethnic cleansing. And I said some people do it with the gun, you guys are doing it with the pen but the truth is those folks would be gone, and they would be gone forever…," Elrich said.
The blog, A Miner Detail, recorded the forum. The blog, The Seventh State, provided the transcript.
Elrich stuck to his guns Wednesday.
"I think if the … council had done what the planning board originally proposed, those neighborhoods would be displaced," Elrich said. "And everybody knows this. This is not a Montgomery County problem, this is a national problem."
He said rail lines displace the communities they cross.
"This isn't me theorizing about what happens. … We are not unique," he said.
Councilmember George Leventhal, another county executive candidate, vehemently disagreed with Elrich.
"The Purple Line will not devastate communities. It will enhance and revitalize communities," he said. "Mr. Elrich could not be more wrong on this question."
Leventhal cited Minneapolis-St. Paul and Charlotte, N.C., as cities that have prevented displacement when commuter rail lines have been constructed.
From other candidates:
Frick, former Rockville Mayor Rose Krasnow and Blair opposed the county's monopoly on wholesale and retail liquor sales.
David Blair of Potomac said he would reprioritize the Montgomery County Economic Development Corp. budget to spend more on marketing the county. He also said he admired a St. Louis program that for $1 million, provides 20 companies $50,000 to move to the city.
Del. Bill Frick of Bethesda said he wanted to build a stable, business-friendly environment. And he said Wheaton should be the next Bethesda. He said he would support an increase in the minimum wage. "No one who works full time should live in poverty," he said.
Krasnow said she wanted to increase collaboration. And she said she supported Metro and the Corridor Cities Transitway, which was expected to be completed before the first person moved into a King Farm home — 22 years ago. If the CCT can't be completed, she would support M-83, a highway that parallels I-270.