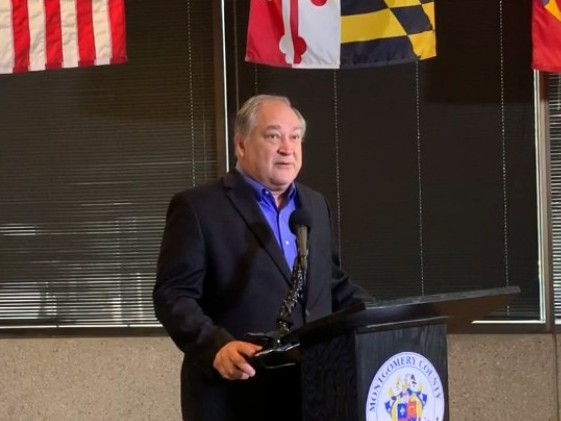 Elrich Says County Not Releasing Dangerous Illegal Immigrants
Montgomery County Executive Marc Elrich disputed the notion that the "county" was releasing dangerous illegal immigrants into the community. He said county jailers follow the Fourth Amendment to the Constitution as well as legal opinions issued by the Maryland attorney general.
"People have referred to us as a 'sanctuary city.' A lot of my friends wish we were a sanctuary city. We have not taken that step because there are circumstances … where we do call ICE," Elrich said Tuesday. ICE is the acronym for Immigration and Customs Enforcement.
Elrich spoke Tuesday in the Executive Office Building at a press conference called to discuss Tonya Chapman's decision to remove her name for contention to be the county's next police chief.
Shortly before the press conference, Elrich released a statement about the controversies surrounding recent arrests of undocumented immigrants for rape. According to news reports, at least four have been charged. Three remain in custody; one posted bond and was released.
In July, Elrich signed an executive order spelling out what the county employees could and could not do with federal officials regarding immigration cases.
On Tuesday, Elrich said the order put in writing what had been the policies of his predecessor, Ike Leggett. The only difference, he said, was that the executive order disallowed federal agents into the secure portions of the jail. However, Elrich said he was willing to talk with ICE officials to work out a compromise.
"I'm not a hard person to talk to," he said.
Here is the full text of his statement:
Recently, there have been reports of concerns expressed that Montgomery County has released undocumented people, accused of serious crimes, back into communities despite the fact that Immigration and Customs Enforcement (ICE) may have issued detainer requests for them. In fact, the release of people – whether they are awaiting trial or have completed serving their sentences – are decisions made by the court system and not by the County government. That is the same process for everyone in the court system.

There is great confusion on this issue, and that is because some people want to make it confusing. I want to make it clear how Montgomery County enforces its policies.  It is the court system that determines whether someone is held without bail or whether a bail is set, and it is our court system alone, that decides when and how people are released.

County police and our Correction and Rehabilitation departments are not authorized to detain someone based on an ICE detainer since it is NOT a judicial warrant, and no court has directed corrections to detain people beyond their release date.

The State's Attorney General has advised: "Local officials may not hold someone beyond their State-law release date in the absence of a judicial warrant or probable cause that the subject has committed a crime."  This is based on the Fourth Amendment of the Constitution: "The right of the people to be secure in their persons, houses, papers, and effects, against unreasonable searches and seizures, shall not be violated, and no warrants shall issue, but upon probable cause, supported by oath or affirmation, and particularly describing the place to be searched, and the persons or things to be seized."

We continue to follow the legal guidance of the State's Attorney General, and when a Maryland State judge orders that a suspect can be released, on bond, in cases involving serious crimes, Montgomery County will continue the practice from the prior administration of notifying ICE in advance that the person is being released if there is an ICE request.

The recent Promoting Community Trust Executive Order simply continues the practice of the prior administration. As has been the practice, the County's Department of Correction and Rehabilitation will notify ICE if the suspects are deemed eligible for release, by a court order. Until then, the suspects will remain in custody until the legal process is complete.

We want the people of Montgomery County to know that our law enforcement and other support agencies are vigilant in enforcing local laws, rules, and regulations. We believe that being an inclusive community for the people who live and work here creates a stronger relationship between communities and our law enforcement agencies, which make our communities safer.