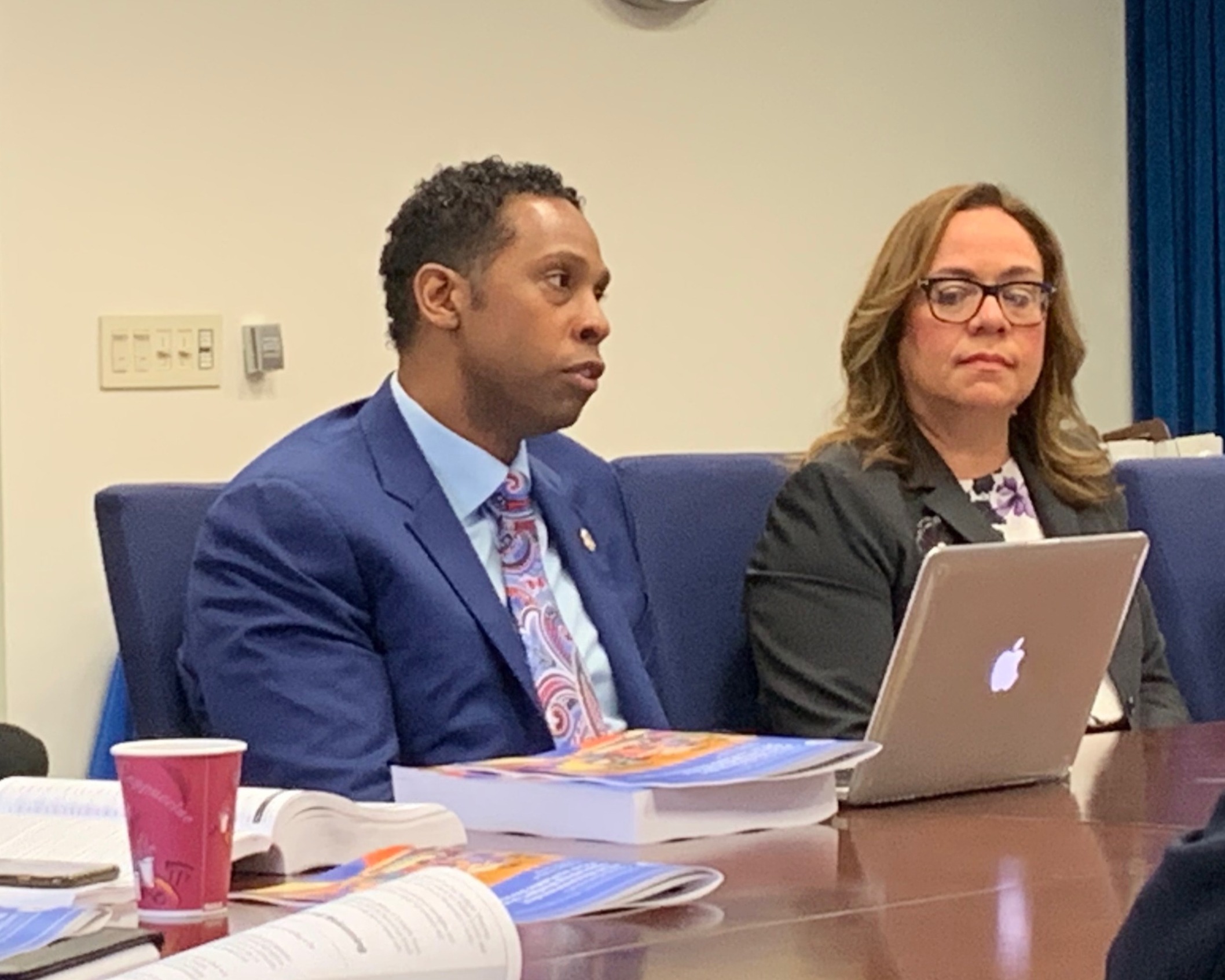 Elrich Unveils $5.7 Billion Spending Plan; Rice Calls It 'Education Last' Budget
Community Executive Marc Elrich unveiled his $5.7 billion budget Friday, offering little in new programs.
The fiscal 2020 budget grows by 2.5 percent from fiscal 2019, according to the massive budget document. Montgomery County Public Schools gets $2.65 billion, the most of any county agency.
The budget now is in the hands of the County Council, who can make changes in the spending plan.
"The primary focus of this budget is to try to lay the basis of sustainability going forward," Elrich said at a public session on the budget. He noted the volatility in what the county was receiving in terms of capital gains. "It's hard to make plans when you don't know what your base revenues are going to be."
At a morning briefing with the council, the budget drew criticism from Councilmember Craig Rice. Visibly upset, Rice told a packed conference room that the budget was an "education last" budget.
Councilmembers passed a huge tax increase three years ago calling that year's budget an "Education First" budget.
Part of Rice's anger was directed at the Montgomery College budget. The college has $310.4 million plugged into Elrich's budget. The college had sought $313.4 million.
"It's now in our hands. I just wish you would have given us a better starting point," said Rice, who chairs the council's Education Committee.
Elrich noted at the council meeting and at a public meeting later that the council has $10 million to spend as they see fit.
Elrich's and Rice's positions reveal the curious arithmetic that surrounds government budgeting. Elrich's budget is $51 million above maintenance of effort, in which the state insists a county must provide the same amount or more in per-pupil spending from one year to the next.
But the amount comes at about 99 percent of what MCPS sought, which results in a $12.4 million ding. Education spending is growing, but not fast enough to suit some.
Money is tight for the county, in part from changes in tax laws related to capital gains. Because of revenue shortfalls, Elrich sent the county council a $40 million savings plan in January.
"A couple of weeks ago, the state decided that we had to write down $80 million in revenues," Elrich said.
Before both the council session and the public session afterward, Elrich acknowledged the deaths in New Zealand where a gunman killed 49 people at two mosques. He said the county was increasing police presence at local mosques for Friday prayers and that next week he would announce $200,000 for security at faith-based organizations (which was already in the works).
In a rambling rundown of his budget, Elrich also noted:
— The county has put 10 percent of its revenues in reserves, at the request of bond rating agencies. The reserves can cover unexpected shortfalls; the money was last used during the 2008 recession.
Now that the county has reached the 10 percent level, it won't need to set aside so much next year, Elrich said.
— The county misses, however, on its OPEB obligations. About 15 years ago or so, government accountants said that if governments were promising their retirees health benefits, the governments needed to set money aside to do so. Before, Montgomery County and other places were paying for retiree health claims as they came up.
Since then, OPEB — for "other post-employment benefits" — has been a drag on local government budgets, diverting money that could have been used for services.
— There's no tax increase.
"Anyone who's waiting for me to drop the tax increase bomb, they will be sorely disappointed," Elrich said. "I do talk to people who say, 'please raise my taxes,' but I do realize that is not the countywide sentiment."
— The budget has a $7 million down payment for early childhood education.
— There's money for 10 electric Ride On buses.
— The budget has money for converting some streetlights to more energy-efficient LEDs.
— Elrich is planning to put solar panels on several more county buildings.
— There's money to start a food waste pilot in which food waste is diverted from landfills and into compost heaps.
— Elrich wants to monetize Montgomery's waste — "waste to cash," as he called it.
We caught up with Rice later Friday and here's what he said about the budget: