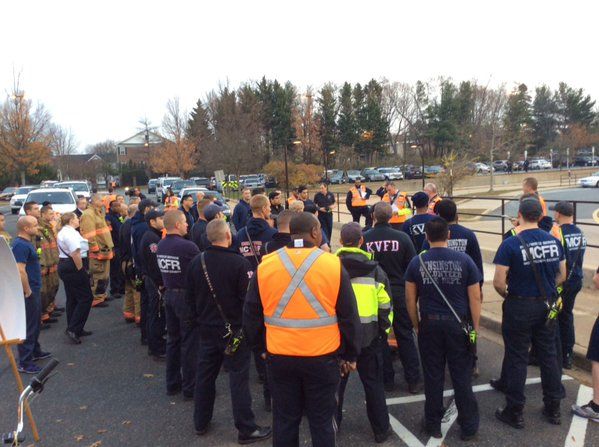 Emergency Response Drill Takes Place at Forest Glen Metro Station (VIDEO)
UPDATED The Forest Glen Metro station was the site of an emergency response drill on Sunday.
The Montgomery County Fire and Rescue Service and the Metro Transit Police conducted a dual exercise from 7 a.m. to 2 p.m.
The station was closed to the public during the exercise.
According to a news release from Metro, the live exercise was designed to allow emergency personnel to practice their response to two separate exercises: one involving a smoke/fire incident inside the tunnel outside Forest Glen and another involving a suspicious package on a bus. In addition, the exercise simulated real-world conditions to test ventilation fan systems, and coordination and communication between emergency responders on scene, rail operations staff, Transit Police and support personnel.
More than 100 emergency responders and volunteers participated in the exercise, which is the third of its kind this year.
For more information, you can visit WMATA's website.
Forest Glen EXERCISE @MetroTransitPD @mcfrs Bomb Squads use robotic capabilities & other techniques to 'render safe' pic.twitter.com/t5KAdMiO88

— Pete Piringer (@mcfrsPIO) December 13, 2015
EXERCISE – Forest Glen Metro parking lot – @mcfrs & @MetroTransitPD Bomb Squads check suspicious package(s) on bus pic.twitter.com/MjWpIrj2U4 — Pete Piringer (@mcfrsPIO) December 13, 2015
EXERCISE – Forest Glen Metro (Red) >100 1st responders & others taking part, event expected to take several hours pic.twitter.com/d9yJqtCHMq

— Pete Piringer (@mcfrsPIO) December 13, 2015
Forest Glen station (Red Line) will be closed Sunday btwn 7 a.m. and 2 p.m. for an emergency response drill. Shuttle buses provided. #wmata — Metrorail Info (@Metrorailinfo) December 12, 2015
EXERCISE – Forest Glen Metro – #MCFRS reinforcements arrive to assist w/ emergency in tunnel >200′ below ground pic.twitter.com/o4tDObKbE6

— Pete Piringer (@mcfrsPIO) December 13, 2015
EXERCISE Forest Glen Metro – fire/smoke w/inj persons in tunnel several hundred feet from platform, #mcfrs on scene pic.twitter.com/wOdzbyou3v — Pete Piringer (@mcfrsPIO) December 13, 2015
Metro Training EXERCISE at Forest Glen Metro, system's deepest at 21 stories below ground, Platform to Mezzanine pic.twitter.com/zLkWYEas5t

— Pete Piringer (@mcfrsPIO) December 13, 2015
MCFRS 'Gameday' Exercise at Forest Glen Metro involves dozens of fire/rescue/EMS, Bomb Squad & Police 1st responders pic.twitter.com/mC9a2ixvWz — Pete Piringer (@mcfrsPIO) December 13, 2015
Today's Metro/MCFRS Training Exercise involves >5 engines, 3 Aerials, 1 Rescue Sq, 2 EMS Units, 2 Battalion Chiefs pic.twitter.com/3kVCgWwkoK

— Pete Piringer (@mcfrsPIO) December 13, 2015