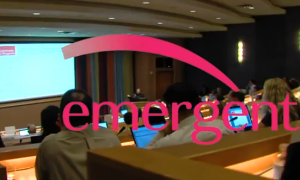 Emergent BioSolutions Announces Plans to Spin-Off 2nd Life Sciences Company
Gaithersburg based global pharmaceutical business, Emergent BioSolutions announces plans to spin-off a new biosciences company resulting in two independent publicly-traded companies with distinct strategic plans, growth strategies and operational and development priorities. The new biosciences company will focus on therapeutics to improve patients' lives. Emergent BioSolutions will continue to focus on its core business of providing specialty products to address emerging public health threats.
"The proposed spin-off recognizes that our two operating divisions have evolved into distinct business and investment opportunities. The biosciences spin-off establishes each as a pure play company with a focused strategy and enables each company to target investors attracted to its business profile," said Daniel J. Abdun-Nabi, President and Chief Executive Officer of Emergent BioSolutions. "This transaction will allow us to accelerate our growth strategy while enabling the new biosciences company to invest in novel therapeutics in the highly attractive immuno-oncology field. We expect the spin-off to enhance business focus, better align resources to achieve strategic priorities, and unlock significant value for both companies."
Emergent believes that establishing the biosciences business as a stand-alone public company offers a number of benefits, including business focus and targeting of investors.
As stand-alone public companies, Emergent and the new biosciences company will have separate management teams and boards of directors. Daniel J. Abdun-Nabi will remain President and Chief Executive Officer and Robert G. Kramer will remain Executive Vice President and Chief Financial Officer of Emergent. Fuad El-Hibri will remain Executive Chairman of the Board of Directors.
Upon completion of the spin-off, Marvin L. White will serve as President and Chief Executive Officer of the new biosciences company. Mr. White is currently a member of Emergent's Board of Directors. He is the former Chief Financial Officer of St. Vincent's Health, a $2.8 billion multi-hospital health system. Mr. White previously served as Executive Director and CFO of Lilly USA, a subsidiary of Eli Lilly and Company, and held other positions in corporate finance at Eli Lilly and Company.
"Marvin brings more than two decades of experience as a senior executive of prominent pharmaceutical and healthcare organizations," said Mr. Abdun-Nabi. "Having worked with Marvin on our board for five years, it is clear that his combination of leadership talents and business acumen will serve the new biosciences company well as it strives to achieve the promise of its product portfolio and platform technology."
"Having witnessed the development of the biosciences business as an Emergent director, I am excited for the opportunity to grow this business as an independent public company by leveraging its innovative ADAPTIR technology in the highly-desirable immuno-oncology field," said Mr. White. "I look forward to working with the talented team within the new biosciences company to advance its unique product candidates for the benefit of patients."
Additional details of the board and management team of the new biosciences company will be provided at a later date.