Event Focuses on Food Recovery
Students in the University of Maryland Eastern Shore Hospitality and Tourism Management Program at The Universities at Shady Grove campus in Rockville will collaborate with Corporate Volunteer Council of Montgomery  to present "Food Recovery 101: Food is a Terrible Thing to Waste," an educational event that will take place on Sept. 16, from 11:30 a.m. to 1:30 p.m.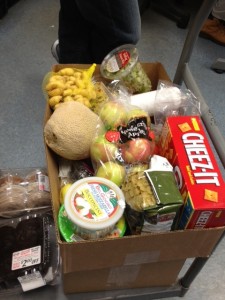 The event will be held in the USG Building II, Bethesda/Gaithersburg Rooms at 9630 Gudelsky Drive, Rockville.
It is estimated that Americans waste 40 percent of their food from farm to fork, an amount that could fill RFK Stadium. In addition, approximately 35 percent of all Montgomery County Public School students qualify for free and reduced meals.
"We are so proud of the many ways our students in the UMES Hospitality and Tourism Management Program are applying their experiences to real-world challenges, such as food recovery," said Dr. Stewart Edelstein, executive director of the Universities at Shady Grove. "We're even more proud that they are tag-teaming with so many respected industry professionals to bring much-needed attention to the often overlooked, but growing issue of hunger in Montgomery County and, ultimately, helping to support many of our local families in need."
Event panelists will include:
• Craig Muckle, Manager of Public Relations & Government Affairs, Safeway
• Ben Simon, Founder & Executive Director, Food Recovery Network,
• Theresa Testoni, Consumer Advocate
• Jessica Weiss, Executive Director, growingSOUL,
The event marks an extension of the work of The Campus Kitchens Project, which was founded in 2001 by DC Central Kitchen to empower student volunteers to fight hunger in their community. Each month, USG's Campus Kitchen Project designs menus, cooks meals, organizes driving schedules, and delivers meals to the families participating in The Dwelling Place's programs. In addition, the students create educational programs with themes of cooking, nutrition and overall healthy eating.
Attendees will learn how to engage with the food system through food recovery and composting and how to partner with nonprofits in this endeavor. All attendees must be pre-registered and are asked to bring a donation of fresh produce or peanut butter to donate to growingSOUL. For more information or to register visit www.cvc-mc.org.
The Corporate Volunteer Council of Montgomery County  educates businesses on how to partner with and support non-profit organizations by helping create successful volunteer/charitable programs that positively impact the business, its employees, and the local community.
Sarah Burnett, executive director of the council, noted: "We are focused on providing volunteer opportunities for business with nonprofits committed to food recovery initiatives and helping our neighbors in need. This program will help to achieve both goals."