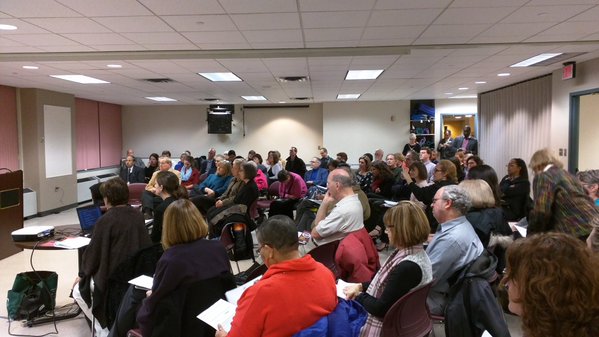 Executive Leggett Hosts Budget Forum in Bethesda (PHOTO)
County Executive Ike Leggett hosted a budget forum in Bethesda on Monday night. Residents gathered to listen and offer their opinions on the Fiscal Year 2017 Operating Budget at the Bethesda-Chevy Chase Regional Center at 4805 Edgemoor Lane.
The operating budget for Montgomery County is over $5 billion with the majority of those funds going towards Montgomery County Public Schools and public safety operations.
Executive Leggett is seeking public input with a series of forums to be hosted throughout Montgomery County over the next month.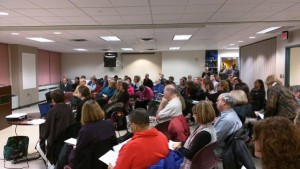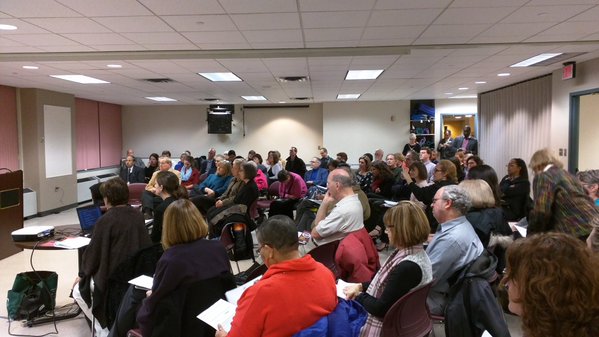 "I believe in this because by the time I send this over to the County Council there are some changes but they rarely change substantially. So the idea is for you to have an input  prior to the time we make the recommendation," said Leggett.
Funding for schools and the County's liquor control operation were the main concerns.
Paul Geller is the Vice President  of the Montgomery County Council of Parent Teacher Associations.
"My concern as a volunteer in the classroom is that teachers are coming to me telling me that they are being stretched to the maximum amount that they can possibly tolerate. Their concerned class sizes are too large, there's too much testing going on, there's too much evaluation going on and not enough time for the teachers to do what they do best and that's teach our kids," said Geller.
Melissa McKenna is a resident of Gaithersburg and believes the council can find the funding necessary to replace the budget shortfall if the Department of Liquor Control were to be privatized.
"I feel they should take our opinions and our thoughts and it's up to them to find the resolution. I think it's a good sign that the County Council has come up with their own solution for how to get out of the liquor control or how to mange it while the state delegation has a different piece of legislation for that," said McKenna.
Leggett added that removing the Department of Liquor Control would create more budget problems for the County.
"What we've heard recently is just basically a wholesale takeover of the operation and to privatize it in a way that would cause a great deal of financial challenges….it would be very difficult for us to meet the objectives of people here at these budget forums and to eliminate $30 million," said Leggett.
Executive Leggett will announce his Fiscal Year 2017 Operating Budget on March 15th. The next fiscal year will begin on July 1st. There are three more budget forums planned at the following dates and locations.
Wednesday, January 20, Silver Spring Regional Services Center, One Veterans Place, Silver Spring.
Thursday, January 21, Mid-County Community Recreation Center, 2004 Queensguard Road, Silver Spring
Monday, January 25, BlackRock Center for the Arts, 12901 Town Commons Drive, Germantown.
To learn more about the Montgomery County operating budget you can click the link here.
Montgomery County Executive Leggett hosts a public forum on FY17 operating budget in Bethesda tonight. @mymcmedia pic.twitter.com/DTARjed9w2

— Willie James Inman (@imwilljames) January 12, 2016
Liquor control and education are the main concerns at tonight's FY17 budget forum in Bethesda @mymcmedia pic.twitter.com/2LzCBoUoic

— Willie James Inman (@imwilljames) January 12, 2016