Faith and Community Leaders Work to Counter Dangerous Speech (PHOTOS)
Over 150 faith leaders and members of the community turned out for an event aimed at ending dangerous speech on Tuesday night in Silver Spring. The event took place at the Silver Spring Civic Building located at One Veterans Plaza.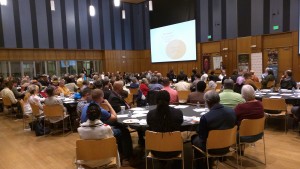 The speakers for the evening were Jim Stowe, director of the Montgomery County Office of Human Rights, Susan Benesch, director of the Dangerous Speech Project, Seth Gordon-Lipkin, Education Project Director for the Anti-Defamation League, and Steven Cohen, communications director for the Counter Extremism Project.
Organizers said that the goal of the event was to raise awareness and educate the public on ways to counter dangerous speech and hate speech. Members of the audience also had an opportunity for questions after the end of each speaker's remarks.
Top issues raised during the question and answer sessions included bullying in schools and hate speech on social media.
The event was hosted by the World Organization for Resource Development (WORDE), the Faith Community Working Group, Jewish Community Relations Council, Anti-Defamation League and more.
Stop dangerous speech event in #SilverSpring tonight hosted by the Faith Community Working Group. @mymcmedia pic.twitter.com/pAdFp8YK8w

— Willie James Inman (@imwilljames) March 8, 2016
Director of the @MontgomeryCoMD Office of Human Rights James Stowe gives opening remarks. @mymcmedia pic.twitter.com/uJackTYWri

— Willie James Inman (@imwilljames) March 8, 2016
Susan Benesch gives remarks on the differences between hate speech and @dangerousspeech #SilverSpring @mymcmedia pic.twitter.com/Gg0cHmjQIt

— Willie James Inman (@imwilljames) March 9, 2016
#Election2016 one of the main topics at tonight's #StopDangerousSpeech event. @mymcmedia

— Willie James Inman (@imwilljames) March 9, 2016