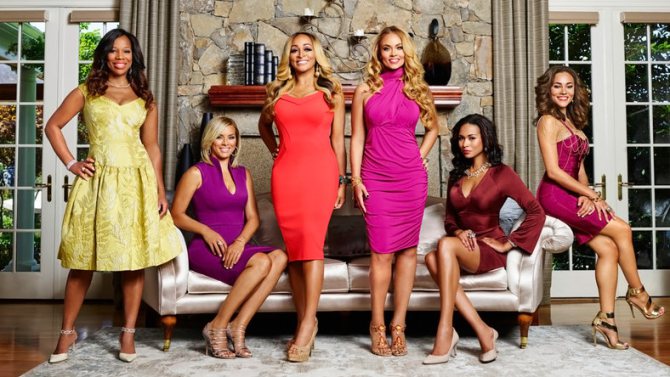 Fake it Till You Make it– The Real Housewives of Potomac Premiere Recap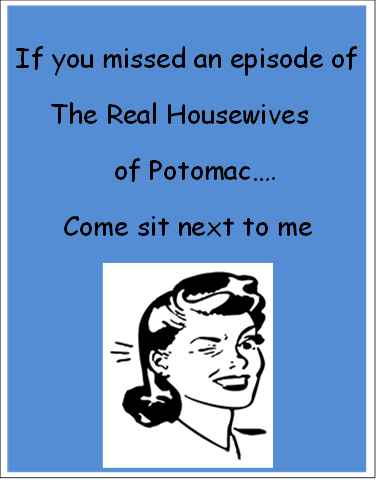 Because so many inquired about my thoughts on the premiere of a Housewives franchise filmed here in Potomac, I decided to write a weekly recap. This first installment is mostly random thoughts and reaction. Comment and I will try and cover oddities I missed and burning questions next week.
No one ever gave us a Potomac Etiquette Guide when we moved there, let alone a guide with a mirror built in like the gem that Gizelle received. Consequently, we were left to wander all over that little town completely clueless about how to act and how we looked. I guess it's possible Miss Manners published a special Potomac edition. If so, we never benefited from it.
2. Karen, please, please stop saying your husband is the "black Bill Gates." If he was actually on par with Gates, we would know him. Black, white or yellow would not be the issue. I can walk around saying I am the white Aretha but that doesn't mean I'm getting invited to the Kennedy Center Honors.
3. If we devised a drinking game using the word "Potomac" we would be wasted after the intro. Watching inebriated must be the answer. It HAS to be better.
4. Poor BRAVO, having to track down restaurants that have big, old circular booths so we can see everyone's snarling faces over dinner. So time consuming. It must be a production nightmare every time someone has to pee and the women, slide, slide, slide and let her out and then slide, slide, slide to let her back in. Oh and quit complaining about not being in the middle of the booth. The middle seat in a booth is jail. The birthday girl should have an easy exit. Now that is a place of honor.
5. No one has a driver. GASP! And unless my eyes deceived me, I think I saw a Yukon XL just like mine in one of the scenes. This is not allowed on any Housewife franchise. You must have a limo pick you up one by one with a camera in the backseat with the champagne. How else can we see your cleavage and micro skirt? And you can't have an average car like a Yukon. Gretchen in Orange County got a pink Harley for her birthday. Do your homework ladies and roll the reruns.
6. Juan Dixon. Oh my little Terp, where do I start? Initially, I was nervous that featuring your ex-wife, Robyn, on this show would ruin my image of you. But then you came onto the screen and it was magic. Why? Because you told those ladies they were crazy and you got the hell out of there. You wanted an escape hatch just like the rest of us out in TV land. That was the equivalent of sinking a three at the buzzer to win it to me. Faith restored.
7. Having said that, Juan was the only one (or the "Juan and only" See what I did there?) who looked comfortable. All the other men looked scared; like maybe they had peed in their pants a little. You could literally see them repeating "forget the camera, forget the camera" over and over in their heads to no avail.
8. I am anxiously awaiting the episode that shows the ladies circling the Safeway parking lot in the Village trying to find a space. Between Starbucks and Chipotle they don't have a prayer. That is a real housewives' of Potomac experience on the daily.
9. They are adding a cast member next week. Maybe she had to finish the etiquette guide and missed the first taping. She also has an abnormally large forehead like Mrs. Almost Bill Gates.
10. And my favorite scene? The piece de resistance? The housewife who came from Germantown and acted like she had to claw and scrape from the bottom all the way up the mountain to the apex, Potomac. Her trek is actually a 15-minute drive though lovely suburbia, maybe shorter if you hit the lights. Praise the Lord she persevered and survived that arduous journey. Clearly she pities the poor ones she left behind, stranded there in the mediocrity of upper middle class.
Will I watch again, you ask? Of course I will. But I'm only in it for the scenery and the opportunity to be snarky the next day.
Unfortunately, this Housewives franchise earns no Bravo from me. Until next week, keep it real people.