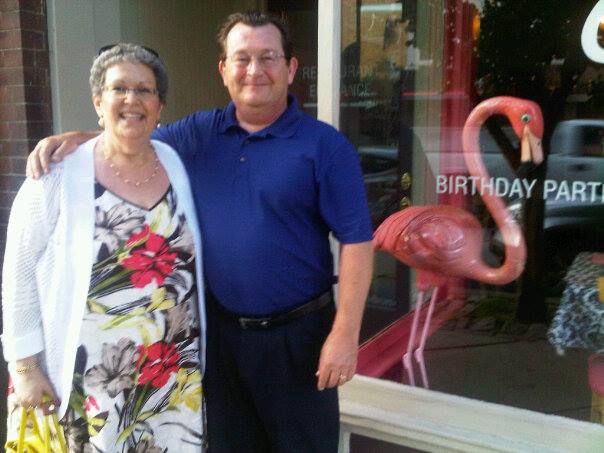 Falling in Love with my Hometown…Charm City
I was born and raised in Baltimore, better know as Charm City.  After graduating from University of Maryland at College Park I made my adult home in Montgomery County.  Actually I've lived here much longer than I lived there, so even though I have many friends and family in 'Balmore,' I had really lost touch with my roots.
But all of that changed this summer.  My daughter Erica took a 1-week Classical Singer's Workshop at Peabody Conservatory in Baltimore and while she was there, she heard that the Baltimore Lyric Opera Camp had an opening in their summer training program.  So, one week in Baltimore turned into a month in Charm City.
And it was such a blessing to my daughter and also to me. The most special part of the experience for both of us was staying with my Mom, spending time with her and reconnecting to my hometown.
I didn't realize how strong the arts are in Baltimore.  Erica had so many amazing 'opera-tunities' while she was there.  She and her colleagues performed with four professional Opera Singers at Artscape, one of the largest Arts Festivals in the Country.  They sounded amazing and what an experience that was for her!
She performed at City Hall for the Mayor of Baltimore and her staff and they were featured on local television stations. Here's a link to the video of the performance.  On the same day they staged singing flash mobs at the Inner Harbor directed by  Baltimore Lyric Opera Company Artistic Director James Harp.
And her adventure culminated in a performance onstage at the historic Lyric Opera House surrounded by so many great friends and family, where she was honored to sing a solo, play a leading role in an original opera written by the group, and receive the Best Singer Award!
While all this was happening I decided to re-discover Baltimore and I found that it's called 'Charm City' for good reasons.  Baltimore is kitschy, and funky and quaint and fun all the while growing into the Cosmopolitan City that it has become while I've been away. I love the pride that I see in the people of Baltimore for their town.  I know that my father was so proud when they built Harbor Place and he loved taking us to Little Italy.
No visit to Baltimore is complete without a visit to Cafe Hon in Hampden, as that's Baltimore's key term of endearment…Hon. (I'm a hybrid, so I call everyone Honey.)
I passed the Hampden billboard every day that said come here for your 'Bay"cation as Baltimore is also known for crabs and Old Bay Seasoning.  They even have an "Old Bay" Garage in Little Italy.
We had Crab Cakes a few times while we were there…yum!!  I'm sorry guys – no one makes Crab Cakes like they do in good 'ole Balmore.'
I reconnected with some dear old friends and family members who gave suggestions for more stories to write about Baltimore. You can check them out on my web site at www.strategicshoppingnetwork.com.
My brother took us to the American Visionary Arts Museum to see all of their amazing exhibits like the Lusitania model made with toothpicks. That night they had a Flicks on the Hill promotion and were showing  "West Side Story" in an outdoor theatre on Federal Hill. And that weekend we also saw a fabulous production of "HMS Pinafore" performed by the Young Vic Theatre Company. The arts are alive and well in Baltimore!!
We visited Amicci's and Vaccaro's  in Little Italy, and Tio Pepe's during Baltimore's Restaurant Week. We ate Captain Crunch French Toast at the Blue Moon Cafe that was featured on Diner's, Drive-Ins and Dives and sampled some of Baltimore's Best Bagels at Goldberg's and Brooklyn Water Bagels in Pikesville.
We fell in love with Baltimore's beautiful architecture and we can see why so many movies are being shot in the town.  On our first day at Peabody, several of the streets in the Mt. Vernon District were transformed into a World War II movie scene and it was so much fun watching them every day.  (I'm still not sure whether it was 'House of Cards' with Kevin Spacy or 'Killing Kennedy' that they were shooting as everyone on the set was very tight-lipped.)
And I drove by my childhood home, my school and the neighborhood park.  Ahhh…the memories. You know, sometimes the very simplest pleasures, like going home again turn out to be so very special…talk about embracing life!

You can check out all of our adventures in Charm City on our web site at www.strategicshoppingnetwork.com and search on the word Baltimore.